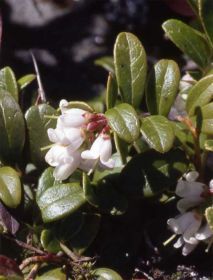 Bearberry is a low growing shrub found on our mountain tops and exposed hillsides. A member of the heather family, this plant has leathery, evergreen leaves, pale pink bell shaped flowers and red berries. It has a whole range of common names from different parts of Scotland from brawlins in North Scotland and nashag in Caithness to rapper-dandy in Berwickshire. Its berries are bitter, but allegedly relished by bears – and grouse. It is the county flower for Aberdeenshire.
Action Needed
Use the fantastic local names and folklore of bearberry to help us promote it as one of our native shrubs that characterise our mountains, providing shelter for mountain mammals and birds.
 Promote the Muirburn Code to ensure bearberry and associated plants are not damaged by muirburn.
 Ensure the Scottish Biodiversity Strategy is fully implemented.
Threats
Its key threat is from burning. As a high altitude plant, this slow growing shrub can respond only very slowly to damage from burning. Climate change is changing its habitat. Upland developments and pressure from recreation can be detrimental at a local level
MSP Species Champion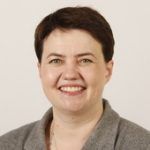 Member for: Edinburgh Central
Party: Scottish Conservative & Unionist Party