07 Jun 2018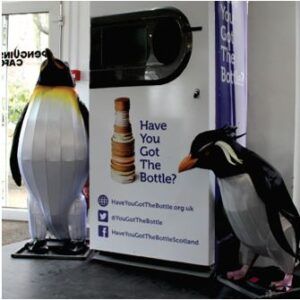 Guest blogger Rachael Clark, Sustainability Advisor, at the Royal Zoological Society of Scotland (RZSS) takes us on a tour of their Green Pawprints initiative encouraging visitors to 'leave nothing but animal tracks'.
Caption: Reverse vending machine which was featured on the ITV Tonight Programme – Plastic: Can
The Sustainability Team at Royal Zoological Society of Scotland (RZSS) has recently launched a new initiative named Green Pawprints, which through a series of campaigns, aims to encourage visitors to 'leave nothing but animal tracks'. The first interactive campaign kicked off in Easter with Paws vs Plastic, which included various events across both RZSS Edinburgh Zoo and RZSS Highland Wildlife Park, designed to inform and engage visitors about the problem of single use plastics.
The team collaborated with Have You Got The Bottle? campaign and Marine Conservation Society to install the first ever Scottish visitor attraction Reserve Vending Machine (RVM) in Edinburgh Zoo's Penguin Café to help spread the important message of recycling plastics. A reverse vending machine or deposit return system means that you pay a little bit extra when you buy a drink and get this money back when you return the bottle for recycling. An astounding 16 million plastic bottles end up in the environment every day in the UK, and a deposit return scheme within Scotland is estimated to increase recycling rates from less than 50% to more than 90% within the first two years. RZSS want to demonstrate how a deposit return scheme may work and encourage visitors to recycle their plastic bottles.
In conjunction with the launch of the RVM, the RZSS Green Teams created plastic sculptures, re-using lantern structures from The Giant Lanterns of China festival held at Edinburgh Zoo over the Winter period, and plastic collected from recycling stations around the parks.
At RZSS Highland Wildlife Park our resident female polar bear, Victoria, recently gave birth to the first polar bear cub in the UK for 25 years. We feel it is important to highlight how plastic affects not only animals living in our seas and oceans but also those species living on land who rely on the sea for food. Scientists have recently discovered large pieces of plastic floating amongst sea ice and embedded within icebergs in the Artic, which increases the likelihood of animals in this habit ingesting plastic. The polar bear sculptures highlight the plight that these beautiful animals face and how important it is to ensure your plastic bottles are being recycled.
RZSS Edinburgh Zoo introduced Pedro the Plastic Penguin, covered in waste plastic, such as bottles, food trays and coffee cup lids, and Vicky the Vegware Penguin, highlighting the shift to compostable products which can be found in all RZSS Edinburgh Zoo catering facilities. Vegware is an innovative alternative to disposable catering packaging and utensils which are low carbon, made plants not plastic, and can all be composted with food waste within 12 weeks.
RZSS Edinburgh Zoo, collaborating with Have You Got The Bottle, re-purposed a rhino transportation crate into a "Rhino Recycling Centre" where Zoo visitors were encouraged to recycle their plastic bottles into the crate. Staff engaged visitors on Deposit Return Schemes, highlighting how much discarded plastic can found on Scottish beaches and landscapes, and how vital recycling of single use plastic is to our planets future. Over the two-week Easter Holiday period, visitors and staff at Edinburgh Zoo recycled 1162 plastic bottles in to the crate and even had a very special visit from Roseanna Cunningham MSP help launch the campaign and events.
For RZSS, conservation and sustainability go hand in hand and it's imperative we play our role in highlighting the impact of single use plastic on our environment and stress the importance to reduce our reliance on these items.
To find out more about RZSS conservation work go to http://www.rzss.org.uk/GreenPawprints