09 Feb 2021
The 2021 Scottish Parliament election must place policies for nature and climate at its heart.
Environmental charities in Scotland have launched a call for the next Scottish Government to prioritise actions to tackle the nature and climate emergency ahead of Holyrood elections in May.
Scottish Environment LINK, a network of Scotland's leading environmental charities, has published a new Manifesto for Nature and Climate setting out key steps that can be taken over the course of the next Scottish Parliament to secure Scotland's role as a leader on climate change policy and kickstart nature's recovery.
At a time when dramatic and widescale loss in wildlife and habitats is happening around the world, and in Scotland, and is exacerbated by climate change, Scotland's decision makers must take bold action. At the same time, the Covid-19 pandemic has revealed the fundamental importance of treating nature with respect and its role in sustaining our wellbeing during difficult times. The LINK manifesto for a transformational green recovery from the pandemic, where investing in nature is part of the solution and where people's wellbeing is improved while sustaining our environment for future generations.
Deborah Long, Chief Officer, said:
"We're pleased to be launching Scottish Environment LINK's manifesto at a critical moment for nature and climate.  There is an urgent need for action on and investment in the nature and climate emergency – Scotland's green recovery needs to centre on protecting and promoting a healthy and resilient environment. If we fail to put Scotland on track to an environmentally sustainable society, not only will today's generation continue to lose out but future generations will not forgive us for choosing short-term economic fixes over long-term wellbeing."
Priorities in the manifesto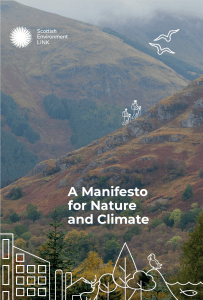 The manifesto sets out 12 priorities that should be taken forward by the next Scottish Government to kickstart action to address the interlinked nature and climate emergency. The next government and parliament need to take us hallway to meeting Scotland's ambitious 2030 climate target, as well as take effective steps to drive nature's recovery. The next Scottish government must commit to delivering:
1. A Nature Network for Scotland.
2. An Environment Act setting legally binding nature recovery targets.
3. A plan for ocean recovery.
4. Sufficient funding to tackle the nature and climate emergency.
5. Legislation and policies to decarbonise and build a Circular Economy.
6. Future farming policy with nature at its heart.
7. Protections for our peatlands.
8. Regional Land Use Frameworks by 2023.
9. A new Deer (Scotland) Act.
10. At least 50% of all new woodland to be with native species.
11. An end to wildlife crime.
12. Protections for our freshwater habitats and species.