30 Nov 2017
Beach litter is on the rise on Scotland's coastline, according to the results of the Marine Conservation Society Great British Beach Clean 2017 launched today. This year beach litter rose by 7% compared to 2016, with items classed as 'on the go' making up 17% of all litter found on beaches. MCS Sea Champion volunteer Jasmin Manning takes us through her top tips to reduce the use of single use plastics.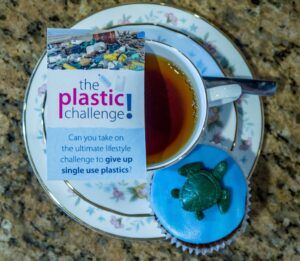 An estimated 8 million tons of plastic ends up in the ocean every year and still in 2017 it's believed 13 billion bottles in the UK alone are still not being recycled.
My plastic free journey started last year; I was previously conscious of recycling but never cared about how much plastic I was actually using and what that plastic was doing to our planet. When I started diving I saw first hand the impact plastic pollution was having on this underwater wonderland and I realised I wanted to help make a change. I started volunteering for the Marine Conservation Society and the more time I spend cleaning beaches the more I realise this is a global issue that needs everyone to work together to make a difference, to protect the ocean and all the weird and wonderful creatures in it.
There's been great media coverage recently from Sky News who've launched "Sky Ocean Rescue" reaching a massive amount of people. They undertook their own plastic challenge and this years Marine Conservations Society's June plastic challenge saw the biggest number of sign ups yet. Change is happening.
I've put together some tips on how you can help be it weeks, months or permanently cutting out single use plastics. It's not an easy thing to do and some things can't be avoided but if you're struggling there's a huge community online that can give advice on anything I've missed. http://www.mcsuk.org/plasticchallenge/tip-swap.php
Plastic bottles
I can now proudly say I've not bought a drink in a plastic bottle in 11months.
I simply bought a reusable bottle. "What about fizzy drinks you say?" Yeah I love my fizzy juice so that was difficult and after a while of struggling with none I decided I could make my own and I got a soda stream.
Plastic Carrier Bags
This one is easy, reusable bags.
Don't worry we've all been there in the supermarket with a trolley full of stuff and the reusable bags still in the house. It happens. Top tip for this is keeping a small fold away one in your handbag or car. If you end up with 5p bags try reusing them or doing something creative with them there's loads of fun plastic bag craft ideas online.
Would you like a straw?
Just say no, it's that easy. You can also get some amazing metal and glass straws online with cool designs that you can reuse.
Cosmetically Conscious
Beware of micro beads which are found in beauty products and toothpastes. You can use the MCS website to guide you through this.
Takeaway Cups
There are so many AMAZINGLY COOL reusable cups available now; all kinds of designs colours, patterns and great non spill lidded, keep your coffee hot for hours ones. If you happen to forget to bring one and you really need a morning coffee you can now keep your cup and hand it in to certain coffee shops that will recycle it for you.
Plastic Cutlery
I hate plastic cutlery! It's my most hated single-use plastic. I work in a supermarket when I am not studying or volunteering and it pains me to see how much plastic cutlery wrapped in plastic packaging is given out everyday. There are so many different cutlery sets you can get in camping shops or online to keep in your office or bag. My personal favourite is a spork; it's a handy all in one tool!
Food Wrap
It's hard to buy food not wrapped in plastic so it makes shopping a new adventure. Go for fruit and veg that is not pre packed, making food from scratch is the easiest way and bring your own tubs for cheese, meat and snacks from supermarket deli counters. It's really hard to do. If buying plastic wrapped food, check that it can defiantly be recycled as a lot of packaging still can't be.
The Biggest Shocks
Once started being more aware of what I was buying and what packaging it was in I started to find so many thing contained plastic that I just was totally unaware off. The biggest shock for me was tea bags! I love tea so when I found out I was devastated. So, from now on its loose-leaf tea only which I'm loving as it tastes so much better and I can pretend to be posh!
It's not easy, it can be quite difficult, but once you get into the swing of things it can be a fun new challenge that sheds light on the amount of plastic you use and how much difference you can make. You can even get out and join a beach clean or organise your own.
Enjoy looking for cool new plastic free accessories and welcome to the plastic challenge family.