20 Apr 2015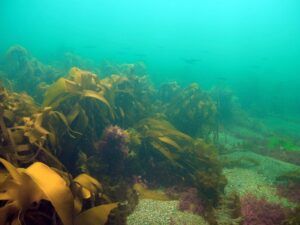 As winner of the world's largest award for grassroots environmental activists, Howard Wood is dedicated to marine conservation in Scotland and calls for progressive management of Scotland's new marine protected areas
Howard Wood, diver and marine conservationist from the Isle of Arran is the Europe winner of the 2015 Goldman Prize – the international environmental equivalent of the Oscars. It is richly-deserved. As one of the founders of the Community of Arran Seabed Trust (COAST), Mr Wood helped spearhead a campaign for Scotland's first No Take Zone in 2008, which closed a small area of Lamlash Bay to fishing to allow the seabed to recover.
With the support of the community, it took thirteen long, hard years of campaigning to convince decision-makers that such a bold approach to spatial protection was needed. Mr Wood has been dedicated to challenging what he describes as a "legacy of vested interests" and "decades of mismanagement" which had led to severe ecological decline in the Clyde and around Scotland's seas more generally. Seven years later, the benefits of the Lamlash Bay NTZ are now being recorded by scientists, with recovery of seabed habitats and increased size and abundance of species such as scallops in the area.
COAST was recently successful in proposing the South Arran Marine Protected Area (MPA), a cornerstone for improved spatial protection in the Clyde and part of wider network of new MPAs in Scotland. The community-based organisation is now urging the Scottish Government to stop scallop dredging and bottom trawling in Scotland's marine protected areas.
COAST are pushing on a crucial issue affecting Scotland's seas. Scotland's marine protected areas need proper protection if they are to work, otherwise they risk being judged as an exercise in bureaucracy without benefits. If we continue to dredge and trawl our seas near current levels, it is difficult to see how they will recover. We launched our 'Don't Take The P' (out of MPAs) campaign earlier this year during which over five thousand people called upon the Scottish Government to introduce stricter controls on the methods of mobile fishing which damage the seabed inside our new MPAs.
With 'Don't Take The P' we stated that scallop dredging and bottom trawling needs to be prohibited from the majority of MPAs, particularly those for seabed habitats, and not least the South Arran MPA, to achieve conservation objectives and to help enhance the health of our wider seas. Whilst there are complexities for some of the sites, we need to follow a more ambitious path to help recover marine health, rather than a patchwork of smaller management zones that will allow damaging activities to continue inside MPAs.
Indeed, alongside the implementation of Marine Protected Areas, we support broader measures to ensure that Scotland's fisheries are sustainably managed and that regional marine planning can help boost ecological health.
COAST is a community organisation which has campaigned long and hard for more progressive marine management, securing the first No Take Zone in Scotland and helping make a successful scientific case for the South Arran MPA designation. We urge the Scottish Government to reflect equally long and hard about why petitions such as this gain so much public support.
You can view COAST's Avaaz petition here and keep up to date with LINK's #DontTakeTheP campaign here.