01 Jul 2021
A Blog from Hebridean Whale and Dolphin Trust –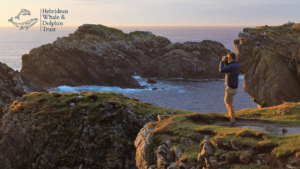 Scotland's coastline is rich with marine wildlife and is a fantastic place to connect with nature, slow down and soak up some vitamin sea. Over a quarter of all species of whale, dolphin, and porpoise, have been recorded here, and that's not all… Scotland is one of the best destinations in the world to see basking sharks, a species that is classified by the IUCN as endangered.
When planning your trip around Scotland this summer, we would highly recommend factoring in time to sit and watch the sea. A great place to start is the Hebridean Whale Trail website. With more than 30 unique sites across Scotland's spectacular west coast – this Trail highlights breath-taking places along our shores that look out across seas where whales and dolphins roam. Why not take a flask of tea out to a headland with you, or better yet pack a picnic? The views are incredible and with a bit of luck and a lot of patience, you never know what you might be rewarded with.
Scotland's wildlife is facing many challenges, some of which are invisible at a first glance. Therefore, when out exploring wild places it is imperative that we are mindful of our own impact and that we leave no trace, protecting these incredible locations and the species that call them home. Shore-based watching offers an accessible, low-impact way to have an amazing and often private audience with marine life.
Impressive sea cliffs and isolated coastal habitat offer a vital refuge for internationally important numbers of breeding seabirds, with many raising their chicks during peak visitor season. White-tailed eagles and golden eagles can be seen soaring across the skies and hidden amongst the seaweed, rocks, and inky waters of the sea lochs, it is possible to spy seals and otters going about their day.
We each have a responsibility to be sustainable spectators, careful to not intrude on the animal's lives. Often, it's not just the individual that we are trying to protect, but it is also about safeguarding the next generation too. Repeated disturbance can sadly push these animals to leave optimal habitat and not return, which can have a devastating impact on the whole community's survival. Please take pride in acting responsibly; follow existing paths, keep dogs on lead, and take extra care not to distract or stress animals if they are feeding, resting or with young, by giving them as much space as possible. For the best encounters plan to wear neutral tones when visiting known wildlife spots, keep your noise levels down, and follow the Scottish Marine Wildlife Watching Code. Not only is this better for the wildlife, but you are more likely to have great, relaxed encounters, where you can witness beautiful and insightful natural behaviours.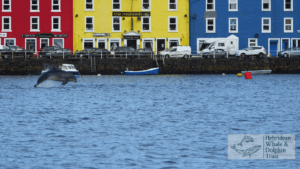 Like every skill in life, scanning for whales and dolphins takes practice and experience. Across Scotland there are many passionate and knowledgeable wildlife professionals willing to share their expertise with you. Look out for land-based wildlife walks and tours with rangers for a chance to engage with the locals and have a more meaningful experience, from a fresh perspective.
If the salty sea waves are calling and you are looking for a boat trip, don't dismiss the ferries. These can be superb platforms for spotting marine wildlife and sea birds, especially on longer crossings. For whale-watching trips, carry out some research before booking. Look for responsible operators, accredited by the Wildlife Safe (WiSe) Scheme. This indicates that the Skipper has completed training in how to operate around marine wildlife without causing disturbance and will maximise your chances of enjoyable encounters where the animals interact on their own terms. Many tour operators also report their sightings to marine conservation charities such as the Hebridean Whale and Dolphin Trust, contributing to efforts to better protect these animals.
You too can become a citizen scientsit. Anyone can report a sighting of a whale, dolphin, porpoise or basking shark, helping to further our knowledge of where and when these species are seen. Before heading out on the west coast of Scotland, make sure to download the Whale Track app which allows you to report your valuable sightings in real-time. If smart phones are not for you, please report via the website, where you can also explore existing data and a map of previous sightings. Elsewhere in the UK, sightings can be reported to the Sea Watch Foundation. Photographs and videos of cetaceans are especially welcome as these provide additional evidence along with your records and may even allow scientists to recognise individual animals, helping to track and uncover movements and information about these animals' hidden lives.
Scotland is an outstanding destination for connecting with nature, and while you explore our coasts and waters you can have minimal impact but maximum experience – take a slow adventure along the Hebridean Whale Trail, choose a responsible WiSe-accredited boat operator, and download Whale Track to become a citizen scientist.