08 Jun 2017
Upcoming artists and graphic designers were asked to 'picture' a sustainable Scotland, and show Members of the Scottish Parliament what is needed to give Scotland a sustainable future at Scottish Environment week, a parliamentary event run by Scottish Environment LINK earlier this year. Four of these fantastic images focused on environmental challenges in the marine environment. To celebrate World Ocean's Day we wanted to share these brilliant pieces of work.
In this image, Cecilia draws attention to the actual area covered by Marine Protected Areas relative to the species and ecosystems they are designed to protect. The image of a minke whale is used to call for designation of the four nature conservation MPAs for mobile species, including minke whale, basking sharks and risso's dolphins, that were proposed in 2014.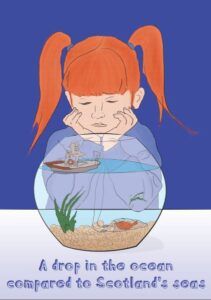 Maria Junquera Cantera – A drop in the ocean
Here the artist uses two key elements – a girl to represent future generations, and a goldfish bowl as a familiar feature, to throw light on the environmental impact of bottom-trawling in the marine environment.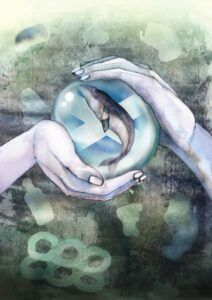 Fausteja Eglynaite
This image focuses on the plight of the ocean's giants. The artist seeks to raise awareness the collective impact of human pressures on the marine environment and inspire people to reduce their impact on the environment.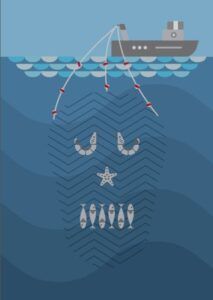 Christoper McAuley
The artist has created a simple and bold scene in response to the challenge of overfishing, allowing the audience to reflect on the impact of human activities within the sea.
With special thanks to the four artists named above. The images represented here are the artists own.