02 Aug 2016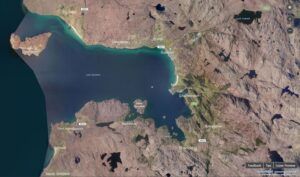 Scottish Water proposals to downgrade the sewage treatment system in Gairloch could have far-reaching implications for the health of local waters and the communities that rely upon them…
Scottish Water is pushing ahead with controversial plans to downgrade a water treatment works at one of the most popular beaches in the Highlands. The sewage treatment plant at Fasaich discharges less than 1500m away from the beach at Sands, Loch Gairloch. Concerned members of the local community fear that the proposed discharge of effluent would start failing standards required for a public bathing water, according to analysis of a dispersal studies report. Unfortunately there is no such bathing water designation in place for Gairloch and Scottish Water's plans would not necessarily need to maintain the natural good standard of water quality. This is despite the fact that much of the local economy is based on tourism associated with the beaches and sea loch.
History of the scheme
Around 12 years ago, sewage from around Gairloch was redirected to the new treatment works at a cost of over £1million. Since then, the effluent entering Loch Gairloch has been treated through a membrane filter system which removes harmful bacteria. The discharge pipe from the sewage works enters the sea close to the sand bar. However, as a cost cutting measure, Scottish Water has now submitted a CAR application to SEPA for a licence to discharge unfiltered bacteria-laden effluent into the loch. Scottish Water plans to remove the existing membrane filter treatment system and replace it with two large septic tanks.
The 'dispersal' report assessing the potential impact of proposed septic tank discharge, dated February 2014 (which was not presented by Scottish Water during the consultation exercise with the local community last year, according to local reports), shows that the projected concentrations of faecal coliform bacteria will exceed the standards required for designated bathing waters within and beyond 5km of the discharge point.
Take action
Gairloch Community Council and the Wester Ross Fishery Trust have urged anyone with an interest in the issue to visit the SEPA 'advertised CAR applications' website to view the application and the supporting information. The application ref number is CAR/L/1002928. SEPA can be emailed directly at <registrydingwall@sepa.org.uk> quoting 'advertised application reference CAR/L/1002928.' "This is an issue that needs to be raised with our local MSPs," explained Peter Cunningham of Wester Ross Fishery Trust. "Much local business depends on good water quality in Loch Gairloch. At the consultation we were told that the annual cost of filter treatment of sewage effluent is around £50-£60,000 year, and that the cost of running the new septic tank system would only be around £3-£4,000 per year. This would seem to explain Scottish Water's motivation to progress with their 'sustainable solution' for Gairloch's sewage treatment."
Gairloch Community Council is "concerned about the situation" and the community has applied for Bathing Water Designation which would effectively stop the proposal from progressing. The CC now needs to provide evidence that the beach is well-used during the summer. If you have any photos, contact Gairloch Community Council Facebook page.
A low-cost swimming pool
Peter Cunningham at WRFT has made a strong case for the public benefit of maintaining good water standards at Gairloch. "Consider Loch Gairloch as a great big wonderful open air swimming pool where people of all ages can paddle, swim, snorkel, enjoy watching wildlife, catch fish, sail, kayak, and enjoy other watersports. If the cost of treating our sewage effluent which is discharged into Loch Gairloch is compared to the cost of running a traditional land-based swimming pool, then the £50,000 year for operating a membrane filter treatment system is surely worth paying?"
Peter explains that the community was told during the consultation that the capital cost of removing the existing membrane treatment system and replacing it with the two big septic tanks will be around £750,000. He anticipates that it will be a long time before there is any overall saving from installing a downgraded sewage works. "If Scottish Water gets its way, much of Loch Gairloch would effectively become a no-go area for swimmers concerned for their health (especially during busy summer months)," he warns.