21 Jul 2015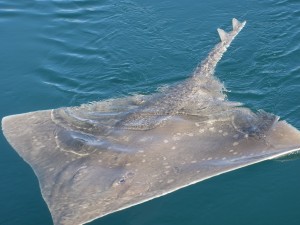 There is sometimes a wee temptation to get carried away with good news, but this summer there are promising signs of change for Scotland's seas – in the form of proposals to better safeguard 16 marine protected areas (MPAs) in our inshore waters, and thus help provide the breeding grounds for marine recovery.
When first mooted, MPAs were seen by some as a distraction. Better protecting parts of our seas would risk displacing activities elsewhere and only ever be a partial fix for the declining health of our whole marine environment. The reply from Scotland's environment community was that, yes, we need ecosystem-based marine planning and improved fisheries management, but we strongly support MPAs also, as a significant tool to help start reversing the decline in the health of our seas.
We are well underway now. For the past three years, the Scottish Government has been busy prioritising the parts of Scotland's seas that urgently need strategic management. It has been a complex, at times frustrating, process that has risked stakeholder fatigue – not least from fishermen, some of whom see it as an unwelcome addition to their regulatory burdens.
As environmental advocates, we have tried to understand this, and have aimed at being constructive within the process. We have pressed for meaningful areas to be protected, and for management for the long-term good of our seas, and all who depend on their health.
Accordingly, we launched our "Don't take the 'P' out of MPAs" campaign, aimed at government Ministers. Our message echoed what many communities around Scotland's coastline are also saying. The health of our seas is clearly failing and urgent action is needed. Over 4,700 people responded to the Scottish Government consultation. Communities up and down the country, from the Clyde to Wester Ross, contributed to a groundswell for conservation management. Their message was simple. The plans were too complex and lacked ambition.
The response from Cabinet Secretary Richard Lochhead has been impressive. He has heard these voices, listened and acted. The management proposals for the 16 sites are now simpler and stronger. Many will see restrictions on dredging, and have enlarged no-go areas for bottom-trawling gear.
A heartening example of where this will help sea life is in the Loch Sunart to Sound of Jura MPA, one of the few remaining strongholds for the common skate. Tragically, this impressive two metre wing-spanned animal is no longer common, as a result of over-exploitation. This was due to its life-history making it unsuitable for targeted fishing. Committed sea anglers have since gone to great lengths to catch, tag and return the diminishing population, thus identifying the site's importance.
Where previously the government's proposal was to restrict dredging and trawling in just the deepest part of the Sound, now, following the advice of marine scientists and feedback from local communities, the proposal is to safeguard other deep areas and adjacent, shallower waters, where skate breed and feed. In short, this is an ecologically proportionate – and necessary – response to the urgent protection and recovery of a globally endangered species.
Progressive management like this is proposed for most of the other 15 sites, although there are still some exceptions, such as the waters of Loch Fyne, where improvements could still be made.
The response to the latest proposals from our fishermen has been incredibly significant – mainly because it is so mixed. 'Mobile gear' fishermen who dredge the sea floor, mostly for scallops, face new restrictions in 3% of our inshore waters, and are deeply concerned by the changes. But 'static gear' fishermen, who use creels to fish, and have a much lower seabed impact, have been broadly supportive.
Some creelers (whose vessels constitute 70% of the Scottish inshore fleet) even argue that the measures do not go far enough to resolve many of the contentious issues facing inshore fishery. Their representatives are urging more wide-ranging spatial management, similar to regulations long used by our Scandinavian neighbours.
As stakeholders across Scotland contemplate their response to the proposals, we entreat them to keep their eye on the grand prize. If we introduce management that encourages ecological bounce-back, inshore fish and shellfish productivity will be improved, lower impact fishing opportunities can be boosted, and marine tourism will be supported.
In addition, the measures will help address a much broader challenge that we face. Kelp forests and seagrass beds lock up millions of tonnes of carbon in the seabed every year. In protecting and encouraging the recovery of these "blue carbon" stores, MPAs can play their part in tackling climate change.
For all of us, the prize to keep in mind is the enhanced sea life which sustains us all.
Calum Duncan
Marine Conservation Society
Convenor of LINK Marine Taskforce