26 Mar 2020
In 2019, the First Minister declared a climate emergency and linked it to the ongoing nature crisis. Nature needs to be given the best possible fighting chance, including protection of animals. The Animals and Wildlife (Penalties, Protections and Powers) (Scotland) Bill, which is currently progressing through the parliament aims to strengthen animal cruelty penalties and introduces emergency procedures to rehome animals. The Bill is a step forward in providing further protections to animals, where once in effect, there will be improvements for enforcement agencies that will benefit all animals in Scotland. For example, the Committee calls on the Scottish Government to extend the powers of the Scottish Society for Prevention of Cruelty to Animals (SSPCA) in order to improve enforcement of the legislative provisions. Stakeholders highlighted that given wildlife crime mainly occurs in remote areas, therefore it can be difficult for the police to prioritise attending within a timeframe that allows for the capture of evidence. In the words of Minister for the Environment and Rural Affairs, Mairi Gougeon, Species Champion for hen harrier, the legislation will 'modernise and strengthen the implementation of existing legislation, impacting on animal welfare'.
LINK members have previously advocated enhancing protections for animals by increasing penalties for most serious wildlife crime offences. In November 2019, LINK's Wildlife Group responded to the Committee's call for evidence. In line with Poustie review recommendations LINK members championed measures such as more stringent sentencing and potential for unlimited financial penalties for more serious wildlife offences.
Illegal fishing and attacks on birds are two types of wildlife crime in Scotland. Freshwater pearl mussels numbers have dramatically declined due to habitat damage and illegal pearl fishing. Freshwater pearl mussels are an important species ecologically; adults are capable of filtering litres of water per day which provides improved water quality for other species such as fish, eels, otters and more. Moreover, illegal persecution of eagles is the most severe constraint on Scottish Golden Eagles. Raptors are often targeted and killed illegally with traps, poison or shooting. Andy Wightman MSP, Species Champion for Golden Eagle, accompanied conservation workers to satellite-tag a young Golden Eagle in 2018. In April 2019 Adam was reported to have disappeared in suspicious circumstances. Birds of prey such as hawks, eagles, kites, buzzards, harriers, falcons and owls are all protected species in the UK. However, raptor persecution is an ongoing serious problem in specific areas in Scotland.
On the 12th of March the MSPs debated the Bill. The debate offered MSP Species Champions an opportunity to show their support of the general principles of the Bill on animal welfare reform. Fifteen MSP Species Champions contributed to the debate.
The importance of offering further protections to species habitats had support from MSPs. Colin Smyth MSP began by declaring his interest as 'Scottish Environment LINK's MSP Species Champion for badgers'. Colin Smyth stated 'Scottish Badgers and Scottish Environment LINK specifically highlighted the need for stronger protection for habitats and badger setts, which was reflected in the committee's conclusion that the destruction of a habitat could be as fatal as directly harming or killing an animal.' This response underscores LINK's position on the Bill. Both badgers themselves and their setts are accorded legal protections, however, the current protections do not account for deliberate or accidental harm to habitats and badger setts.
Gillian Martin MSP, Species Champion for grey seal and yew, highlighted the detrimental effects of destroying an animals' habitat '…can be as fatal as directly harming or killing an animal'. Gillian Martin also emphasised the importance of protecting badger setts 'the destruction of badger setts could lead to the destruction of a colony and the deaths of some or all of the animals, particularly during breeding.' LINK welcomes this and notes that current provision for penalties on damage to a species' place of breeding and rest, does not consider the relationship between the disturbance/destruction caused to its habitat and the animals' life. Finlay Carson MSP, Species Champion for Leisler's bat, provided further support 'As Gillian Martin mentioned, the likes of destroying a single badger sett needs to be considered in light of the long-term impact on the colony. He described the Bill as 'long overdue', adding: 'We need to introduce new penalties for those who continue to cause pain and suffering to animals and wildlife'.
Wildlife offences regarding damage/destruction to habitats impact species such as bats and birds of prey as well. Currently, there is an absence of appropriate penalties in relation to wildlife offences such as destruction of bat roosts. Bats are European Protected Species and crimes against the species most commonly involves the destruction of their roost habitats. Mark Ruskell MSP, Species Champion for white-tailed eagle, threw a spotlight on the impact this has on birds of prey 'every year we celebrate as fledgling sea eagles, golden eagles or hen harriers are tracked leaving their nests, but every year the same birds are found dead, poisoned and shot.' To offer further protection to bats and birds of prey LINK has recommended that offences relating to European Protected Species should have the potential to be unlimited.
Since its launch in 2013, the Species Champions initiative has gone from strength to strength: at the start of the current parliamentary session in 2016, 56 MSPs were signed up to the scheme; today, at almost halfway through the current session, there are 104 MSP champions, representing 80% of the Chamber. The Species Champion initiative provides a clear and accessible way for MSPs to do their bit for Scotland's nature and future generations, we welcome the support provided by the 15 MSP Species Champions at the Bill debate.
Click here to read LINK's response to the Animals and Wildlife (Penalties, Protections and Powers) (Scotland) Bill.
104 MSPs have signed up to be champions for a range of animal and plant species, with more information available here.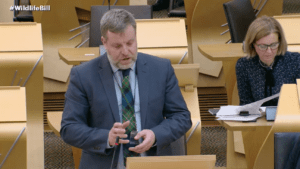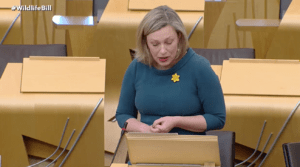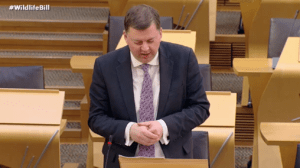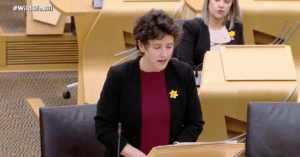 Juliet Caldwell
Species Champion Coordinator at Scottish Environment Link