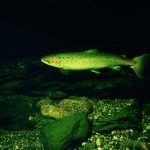 Atlantic salmon are our largest freshwater fish, growing up to 1.6m in length. They breed in freshwater but spend most of their lives feeding at sea, returning at maturity to spawn in the river of their birth.
They are a UK Biodiversity Action Plan priority species, and have declined markedly in many rivers, particularly on the west coast of Scotland.
Thirteen rivers, including the Tweed are designated as Special Areas of Conservation for Atlantic salmon. Other biodiversity features, such as pearl mussels, benefit from conservation measures for salmon.
Action Needed
Support measures to reduce impacts of aquaculture on wild fish
Support the removal of obstacles to migration in rivers
Support enhanced regulation to reduce nutrient pollution
Support biodiversity and climate actions, including tree planting along river corridors
Threats
Aquaculture poses the most serious threat through transfer of disease and interbreeding with fish that have escaped from farms. Barriers to migration such as dams and weirs, changes to river systems including development and pollution, unsustainable fishing practices both at sea and in rivers, and climate change have the potential to affect wild populations.
MSP Species Champion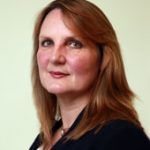 Member for: South Scotland
Party: Scottish Conservative & Unionist Party