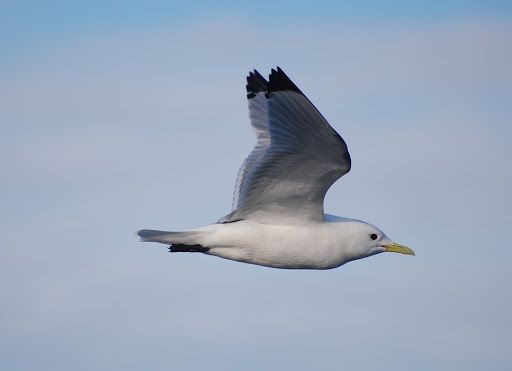 The clamour of this delicate gull, so characteristic of many of Scotland's seabird cliffs, gave the Kittiwake its name. Its nests, built of seaweed, cling to impossibly small ledges on some of the steepest sections of the cliffs.
The total breeding population in Scotland was estimated to number 282,000 pairs in 2000. The largest colonies are on the east coast.
They eat a variety of small fish with sandeels forming the bulk of the diet in the east and sprats more important in the west. Breeding productivity is closely linked to sandeel abundance, itself a feature of low sea temperatures.
Action Needed
Ensure that important sandeel habitats, notably the Firth of Forth Banks, are managed appropriately as Marine Protected Areas, including control of windfarm development.
Support measures to manage sandeel fisheries sustainably.
Support measures to reduce greenhouse gas emissions and combat climate change.
 Ensure the Scottish Biodiversity Strategy is fully implemented.
Threats
Sea surface temperatures in parts of the North Sea and the Minch have risen by nearly 2˚C since the 1980s. Plankton communities in the North Atlantic have shifted northwards by over 1000km during the same period. This has had a demonstrable effect on sandeels and, combined with commercial sandeel fishery, a devastating effect on Kittiwakes.
MSP Nature Champion