27 Apr 2016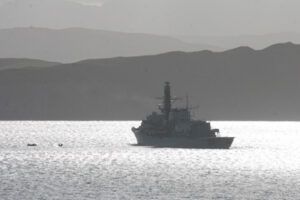 The Ministry of Defence is tasked to 'defend the realm' – Sarah Dolman, Senior Policy Manager for Whale & Dolphin Conservation explains that do that, it must improve the assessment of its own environmental impacts
Joint Warrior is the largest multi-ship, multinational, multi threat exercise led by the Royal Navy in UK Waters. Taking place bi-annually with activities generally concentrated in the waters West of Scotland or in the Northern North Sea, the waters off East Scotland and at times in the Irish Sea. Exercise Joint Warrior ended this weekend and will continue for 2 weeks again in October.
Exercise Griffin Strike was a one off bi-national, joint service, military exercise conducted between the French and Royal Navy in UK waters for the same two week period. Activities were concentrated in waters South of Devon and Cornwall, approaches to the Bristol Channel (West of Lundy) and waters South of Pembrokeshire.
It's good news that the Ministry of Defence (MOD) has considered the proposed Special Areas of Conservation (SACs) for harbour porpoises in their management of these Exercises. The measures in place are a step in the right direction to protect cetaceans from intense noise pollution from military sonar and explosives, but without undertaking full strategic environmental assessment of all activities being undertaken, and of all the species and habitats that can be impacted, the current measures can only be piecemeal.
It's also good news that active sonar is not being used in the Moray Firth bottlenose dolphin Special Area of Conservation (SAC) and some of the proposed harbour porpoise SACs. Where active sonar is being used within SACs (like the proposed Inner Hebrides and the Minches harbour porpoise SAC), measures to reduce and limit the allowable source level of active sonar are important. Reducing the noise introduced into the marine environment is the best way to reduce injury and disturbance impacts.
Marine mammals are sensitive to intense noise pollution and WDC would prefer that no sonar took place within habitats that are important for marine mammals, including in MPAs. But there seem to be different approaches and inconsistencies in the proposed harbour porpoise SACs inside of Scottish waters and outside of Scottish waters, and also different approach again in the vicinity of the Moray Firth bottlenose dolphin SAC. We do not think the MOD go far enough to protect particularly vulnerable offshore species, including beaked whales, pilot whales and sperm whales who will still be exposed to higher source levels offshore and yet are known to be very sensitive to the impacts of active sonar.
We also continue to have concerns about the inadequacy of mitigation measures undertaken during bombing and explosive ordnance disposal at Cape Wrath and around Garvie Island. We would like reassurance that the mitigation measures proposed in a report published following the Kyle of Durness pilot whale mass stranding back in 2011 following explosive ordnance disposal have been pursued and adequate mitigation is in place to do everything possible to ensure another event like this will not take place.
In summary, we recognise the MODs efforts to manage its potential impacts in Special Areas of Conservation and in the wider marine environment. However, as a matter of urgency, and before the next Joint Warrior Exercise, the MOD should:
Undertake full Environmental Assessment of their activities (and those of other nations exercising in UK waters) in the west coast Exercise Area (close to the coast and offshore), including the proposed harbour porpoise SAC;
Develop a strategic and long term monitoring plan (including passive acoustic monitoring), that focuses on i) baseline surveillance and ii) understanding the extent of potential disturbance and injury impacts; and,
Implement effective mitigation, including at the Cape Wrath bombing range, including for explosive ordnance disposal.
In short, when using the seas for war games, the MOD should play by the same rules as other sectors.