15 Jan 2016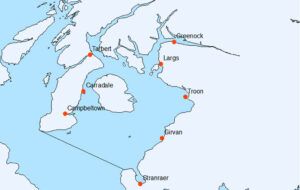 The Sustainable Inshore Fisheries Trust (SIFT) have set out detailed proposals for reforming fisheries management in the Clyde. There are just a few days left now to submit your own views to this preliminary consultation.

For many years now, the Clyde has been the hotbed of debate; why has the fishery changed so dramatically in the past century? What caused the decline of landable-sized whitefish? There are many views, but one thing that most agree upon is that the Clyde (and its fishery) could be in better shape. The Clyde used to be the envy of Europe, with amazingly diverse – and seemingly limitless populations of – fish and shellfish, supporting commercial fisheries, sea angling festivals and hobby fishing. Now it is widely regarded as a heavily modified ecosystem that is out of balance: whitefish are no longer catchable in the same numbers, and the two remaining stocks, prawns and scallops, are arguably monocultures that have in part resulted from incredibly powerful catch methods, such as trawling and dredging, but which also have significant issues with bycatch and impacts on seabed habitats.
The Sustainable Inshore Fisheries Trust has – after years of research – developed proposals for sustainable management of prawns and scallops in the Clyde, which will try to establish the best areas for different fishing methods. Currently there are time-based, seasonal closures and weekend restrictions and some areas protected from fishing for nature conservation purposes (the small No Take Zone in Lamlash Bay, small closures off the south of Arran and the forthcoming management measures for the South Arran MPA and Upper Loch Fyne and Loch Goil MPA). However, there is no strategic, wide-ranging zoning of the Clyde basin. The Regulating Order would seek to change this.

Regulating Orders have been used in other areas (such as Shetland and the Solway Firth) and present an alternative approach to managing shellfish fisheries. SIFT have undertaken a huge amount of research into the socio-economics and marine biological science underpinning their proposals. Our view is that this deserves a full public consultation. Our members have recently submitted a response to the Scottish Government's preliminary consultation. We contend that the proposals represent a significant opportunity to finally help manage the Clyde for future generations of fishing. Find out more about the process for the Scottish Government's consideration of SIFT's proposals here on the Scottish Government's webpage. You can find out more information about the background to the proposals by visiting SIFT's website.