09 Jun 2015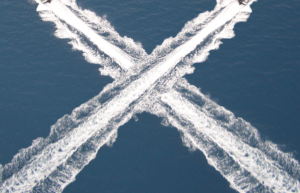 Scotland's marine protected areas (MPAs) are in the balance. The Cabinet Secretary Richard Lochhead is in the process of signing-off crucial documents that will indicate the proposed future management for Scotland's MPAs. We are concerned that certain types of fishing which can damage seafloor habitats will be allowed to continue in large areas of the new MPAs. That's why we continue to call that our representatives: 'DontTakeTheP' out of MPAs.
The decision about how the Scottish Government intends to manage Scotland's new nature conservation MPAs will perhaps be the most obvious signal yet of just how progressive our Government is in terms of its marine policy. There is a choice: maintain the status quo, which has seen the steady and unchecked decline of biodiversity in our seas, or manage for the future, by making larger areas off-limits to damaging fishing, in combination with wider effort management and transition to more sustainable practices to offset displacement impacts. Solutions that merely reduce fishing effort within MPAs, still mean that important seabed habitats can be vulnerable to harm – just one pass of a boat's dredge can cause damage that can take years to recover. We need management that relieves larger areas from this type of pressure; for the Cabinet Secretary to ensure our MPAs are more than 'paper parks, proposed management measures must be meaningful in ecological terms.
If you want to look at what's at stake, have a look at these diagrams.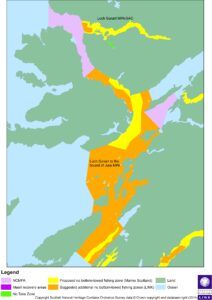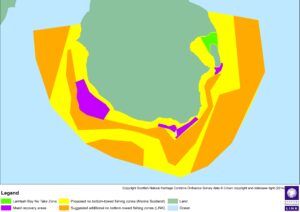 Marine Scotland have been proposing a complex, zonal-style of management and resembles what some have described as a "ripped doiley." We have called strongly for a simplified (and more ecosystem-based) approach that embeds the precautionary principle and reflects the capacity of our seas to regenerate, should they be given the chance. We think these MPAs should protect the full extent of protected features and give scope for their recovery, as well as safeguarding the other ecological processes upon which they depend. Furthermore we think the management of MPAs should be easily communicated and easy to comply with. We have gone to great lengths to make this point and submitted a 39-page response to the Scottish Government consultation earlier this year.
We think that this management is in the wider public interest. We believe this, because ultimately we think that this management will be in the best interests of fishermen who are major contributors to coastal communities. And this is now a view being shared by more and more fishermen. There are increasingly calls from certain sectors of the fishing industry to manage MPAs in a progressive way; in other words closing off larger areas to bottom-towed mobile fishing (such as scallop dredging and prawn-trawling). There is also a real recognition that this should not be some sort of fight between different sectors in the industry. Times of transition need leadership, and, very often, support.
How Scotland's fishermen affected by MPA management can be helped to transition to new ways of operating is a discussion for Government and the industry, but we as environmental groups know that the transition, if we can get there, will pay off in the long-run.
Please help urge the Scottish Government to take a progressive stance on the management of MPAs by using the hashtag #DontTakeTheP and sharing this article on Twitter and Facebook.