03 Dec 2021
A blog by Esther Brooker, Marine Policy and Engagement Officer.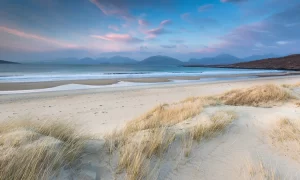 Scotland has been well and truly in the global limelight for the past weeks, with the high-profile UN Conference of the Parties for Climate Change (COP26) being co-hosted by the UK and Italian Governments in Glasgow [1].
Nations worldwide, particularly those in the global south bearing the brunt of climate impacts, had their hopes pinned on agreements needed at COP26 to halt and reverse the effects of climate change, most crucially to ensure that global temperatures do not exceed 1.5°C by the end of century. Each day of the conference was headlined by flurries of commitments by world governments – stopping deforestation, further developing clean (renewable) energy sources and accelerating a phase-out on extracting and burning coal. But were they meaningful and timely enough to enable the transformative, systemic change needed to achieve COP26 goals.
It certainly seemed like the rhetoric to act urgently on climate change was there, but with subsequent analyses predicting that all the 2030 commitments on nationally determined contributions made by global nations involved in the summit will still result in a catastrophic global temperature rise of 2.4°C by the end of century, it may be too little too late.
And what of our ocean? We know it plays a fundamental role in mitigating climate change, having buffered warming rates by absorbing 90% of excess heat, absorbed at least 25% of our carbon emissions into the water and helped long term storage by channelling carbon via marine foodwebs and "blue carbon" habitats like seagrass, mangroves and saltmarsh into the seabed. We also know that climate change can harm the ocean, with excess heat bleaching tropical corals and altering fish distribution and increasing acidity, preventing many species laying down vital shell material. A healthy ocean is one of our greatest allies in the fight against climate change. What then did our leaders do at COP26 to save our seas so that they can ultimately save us?
November 5th was Ocean Action Day and the UK made a number of commitments:
A £6 million UK contribution to PROBLUE, a World Bank fund that works across a broad range of ocean issues;
£400,000 to support the government of Fiji in issuing its first sovereign blue bond;
An additional £1 million contribution to the Global Fund for Coral Reefs;
Earlier this year the UK also committed £2 million to the Ocean Risk and Resilience Action Alliance, which hosted a roundtable at COP26. Further signatories were also secured to the UK-driven 30by30 target, which aims to protect 30% of the world's ocean by 2030. The UK also highlighted its work on blue carbon research – habitats and species that can naturally fix and store atmospheric carbon and help to mitigate climate change emissions – including a new cross-Administration Blue Carbon Partnership and newly published guidance on restoring seagrass, saltmarsh and intertidal sediment habitats. Crucially, Scotland are a few steps ahead on blue carbon research partnerships, having already established the Scottish Blue Carbon Forum in 2018, which hosted a productive "Blue Carbon: Beyond the Inventory" conference on 11-12th November. At this event Mairi Gougeon MSP, Cabinet Secretary for Rural Affairs and Islands announced a new Blue Carbon International Policy Challenge, which will give funding for up to five blue carbon projects in 2022 with the aim of translating research findings into action on the ground and encouraging new partnerships with other countries.
We have reviewed the UK's COP26 commitments against what we think is needed to recover our seas, as described in our Ocean Recovery Plan.
Ask 1: Create legally binding targets for ocean recovery
Targets at COP26 have been predominantly based on reducing emissions, relevant for both marine industries and nature conservation as we'll discuss under the following asks. LINK member Marine Conservation Society co-hosted an ocean event in the Water Pavilion at which UN Climate Envoy Peter Thomson implored ocean action to be included. A crucial outcome for this COP26 was that for the first time the ocean is to be "anchored" permanently in the multilateral climate change regime. For the first time, ocean action is formally recognised as climate action.
Find out why legally binding targets for nature recovery are so important: https://www.fightforscotlandsnature.scot/why-scotland-must-set-targets-for-natures-recovery/
Ask 2: Strengthen the MPA network for ocean recovery [2]
No numerical targets were announced at COP26, but this was not expected as the focus for this will be the UN Biodiversity Conference (COP15) in Kunming, China April/May 2022. However, the Glasgow Climate Pact crucially now recognises "the importance of ensuring the integrity of all ecosystems, including in forests, the ocean and the cryosphere, and the protection of biodiversity […]". Again, this is an important step in recognising the crucial role that the recovery of nature on land and in the ocean has to help meet emission reductions targets. In short, we need to turn the carbon tap off and increase the capacity of nature's sponge to help absorb the historic excess. Recovering the health of the ocean is therefore crucial and Marine Protected Areas have an important role to play.
The UK Government has led internationally on the '30by30' initiative to protect 30% of the world's oceans by 2030, to which there are now over 100 signatories. The Scottish Government has also recently committed to creating highly protected marine areas (HPMAs) in 10% of Scotland's seas by 2026, four years ahead of the EU target, which would lead the way in UK and Europe for this stricter subset of protection if met. These new HPMAs should be akin to the IUCN definition of fully protected, allowing no extractive or damaging activities to operate within them. These areas should prioritise the recovery of damaged and modified areas across all inshore and offshore habitats and include protection of blue carbon habitats and species, both to prevent damage and the release of carbon already stored, and to enable increase of blue carbon habitats and species.
The 30by30 target sounds good but is misleading without the detail of actual protection. Designating MPAs does not provide enough protection without fisheries management measures in particular also enshrined in law. Both the UK and Scottish Government already claim to have exceeded the 30% target domestically, but most remain "paper parks" requiring urgent protection from the most damaging activities. With the UK and Scottish Governments talking the talk on 30by30, the pressure is on to ensure the reality matches the rhetoric. The COP15 UN Biodiversity Conference next year is another crucial staging post.
Ask 3: Reform fisheries for resilience
There were no specific targets on fisheries at COP26. However, some of the agricultural reform commitments pertain to food systems in general, which should arguably support fisheries and aquaculture. The Glasgow pact requires relevant parties "to consider how to integrate and strengthen ocean-based action in their existing mandates and work plans and to report on these activities within the existing reporting processes" As the signatory party, the UK Government commitment to reduce carbon emissions and decarbonise industries must therefore include commercial fishing and the protection and recovery of blue carbon. The largest UK supermarkets in partnership with WWF have committed to reducing the environmental impact of UK groceries by 2030, with marine included as one of the 7 focus areas.
Damaging fishing methods, such as bottom trawling, have recently been estimated to release over a gigaton of carbon stored in seabed sediments into the water column every year, although the full pathways and extent of release into the atmosphere are still being explored [3]. Furthermore, carbon is cycled and transported to deeper waters by fish, so unsustainable fishing also results in a loss of carbon storage. Leaving more fish (and their predators and prey) in the ocean and larger areas of seabed habitats and sediments undisturbed can potentially therefore make an important contribution toward long-term carbon storage and net zero emissions. Destructive fishing practices need to be phased out and commercial fisheries supported with the innovation and reform needed to be part of a more sustainable nature- and climate-smart food system.
Ask 4: Invest for our future
The UK Government committed around £7.5 million to various global ocean climate funds (see above).
Climate finance for the oceans has been a part of ocean-related commitments at COP26, and investment has also been pledged for protection of nature on land as well as for improving sustainability in industries and reducing pollution. Domestic funding for conservation of UK seas remains thin. In Scotland, our Ocean Recovery Plan calls for an increase in public budget for marine conservation, development of innovative finance models and proper enforcement (e.g. issuing of appropriate fines) of environmental damage. Of course, investing in global climate action will benefit us all ultimately, but both the UK Government and Scottish Government must ensure sufficient investment within their respective areas of competence to achieve their contribution to reducing emissions.
It would be easy to say 'time will tell' whether the UK's targets and pledges will be enough to save our seas and sufficiently reduce emissions to prevent warming to 1.5 – but that's the thing, we don't have the time! Action must be immediate and effective to ensure we meet that crucial figure.
Wider concerns remain as COP26 lacked stronger commitments to reduce emissions. The initial promise to phase out coal was diminished and changed in the COP agreement to "phase down". The promise of high-income nations to deliver US$100 bn in climate finance annually from 2020 has not been reached. Similarly, Nations failed to agree on the creation of a "loss and damage" fund. A recent paper discussing why COP26 should focus more on oceans outlines some simple and immediate steps that governments and marine managers can take, which correspond well with our four key Ocean Recovery Plan asks:
Develop integrated policies to address climate and biodiversity across land, freshwater and oceans, and incorporate carbon storage objectives within MPA design and management;
International-scale approach to protecting the ocean (at least 30% of our oceans must be protected, including areas outside national jurisdiction – the high seas);
Reform the systems under which human activities that damage ocean ecosystems operate;
Financing ocean protection and account for the value of blue carbon ecosystems to support and encourage investment.
The paper also highlights increasing global cooperation to work toward climate change goals and to improve our understanding of ocean processes and ecosystems and how changing conditions impact people in the most vulnerable areas. Here in Scotland our coastal areas have already changed so much and the effects of climate change are becoming ever more apparent. Scottish seas have some of the richest carbon storing habitats in the world, as well as diverse maritime industries with the potential to contribute more than they take, and with that comes a responsibility on government, industry and consumers alike to work towards the crucial common goal.
Notes
[1] International negotiations are a matter reserved to Westminster and the Scottish Government had no formal role in the negotiations.
[2] Commit to at least 30% of Scotland's seas being highly protected, at least a third of which are fully protected (therefore 10% of Scotland's seas), from destructive and extractive activities by 2030.
[3] https://www.frontiersin.org/articles/10.3389/fclim.2021.710546/full#B126