22 Nov 2021
So CoP26 is over, the posters have been taken down, the seats stacked and the streets resumed their November demeanour. If CoP26 was our best last chance (UNFCC), what does the future look like now? 
We had high ambitions. But not unrealistic ones. We all went into CoP26 knowing that the world had to do much more to prevent ongoing loss and destruction of homes, businesses, countries and habitats from the effects of climate change. And we knew we had to act quickly because the impacts of climate change are already with us. We heard impassioned pleas from those already affected, in Africa, on Pacific islands, in the Arctic north and from teenagers and children around the world who are palpably angry at the inheritance they are going to receive and the lack of sufficient action to leave them a future planet worth living on. Was it all blah blah blah? We asked 7 people for their thoughts. 
Mike Robinson CEO of Royal Scottish Geographical Society told us: "With international commitments setting us on track for at least 2.4°C of warming, it's difficult not to be disappointed with the outcome of the Glasgow COP26. But then, I have been disappointed by the outcome of every one of the previous 25 climate COPs too, so this may say more about expectations and the challenge of global diplomacy and negotiation than anything. Glasgow was another step on the long journey towards net zero and beyond.  
….we [now] need to stop blaming each other and start collaborating more than ever, because most of all we need to bring people together around this issue, to win the majority over to the changes we all need, and to demand that change, so our politicians have the political space (or are forced) to act. Because only then will a COP be able to secure the commitments we all want and need."
Calum Duncan, Head of Conservation Scotland at Marine Conservation Society said: "it is heartening that for the first time ever in a COP pact "ocean-based action" is "invited" to be strengthened to help in the fight against climate change."
"I hoped that world leaders, negotiators, industry and civic society would listen to the ocean and put in place action and finance to restore and protect our ocean so it can continue to be a key ally in the fight against climate change."
Catherine Gemmell, Scotland Conservation Officer at Marine Conservation Society, volunteered at COP26 as a Glasgow City Council volunteer in the Green Zone as well as spreading the word of Marine Conservation Society's #ListenToTheOcean campaign.
"Along the river Stuart and our engagement team successfully brought the ocean into the heart of Glasgow on Youth and Ocean Day and were invited into youth hub of activity at 'The Extreme Hangout.' A powerful moment where Sea Goddess 'Storm' walked the streets of Govan was captured by our team where the local community came out to listen to this incredible voice of the Ocean.
Through engagement in the Blue and Green Zones and across Scotland we managed to connect with people and places across the Ocean. The Ocean was given a voice and it was heard, but will our calls for action be heeded?"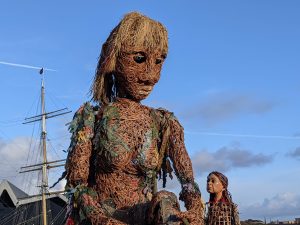 Storm meeting Little Amal in Govan, Glasgow
In terms of what's next, Calum Duncan said: "Reality must match rhetoric, in Scotland and across the globe. Me and my team will continue to do everything we can to push ocean recovery in Scotland, including ensuring blue carbon habitats help long-term carbon storage. The Glasgow Climate Pact fell just short, the window to secure national action globally to keep 1.5C alive is closing, rapidly, but it is not yet shut. Hope therefore remains alive, just."
"Therefore, whoever you are and wherever you are please listen to the ocean and become a voice for Scottish Seas and hold those with the power and the money to account and to demand action at every level to save our seas, our climate, people and planet."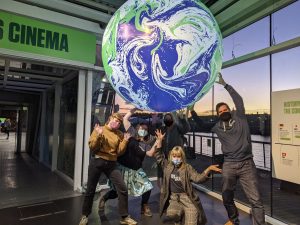 Catherine Gemmell, Calum Duncan and members of the Marine Conservation Society team at COP26.
Lang Banks, Director of WWF Scotland said: "To put it bluntly, what has been pledged so far in Glasgow is not yet enough to prevent the world from warming more than 1.5oC – putting people and nature in peril." 
Climate pledges are not the same climate action and it is clear the biggest gap lies in real action to cut emissions this decade. There's no more time to waste, we need to see all those net zero commitments for far off in the future backed up by real and rapid cuts to emissions by 2030." 
Rob Knott, Tamara Lumb and Amelia Hayward are Conservation Skills Interns at Forsinard Flows with RSPB Scotland. They are known as the 'Bog babes' and work to save Scotland's bogs as well as educate others on why they should care about bogs too.
"It's hard to look back on our expectations of COP26, knowing in the end how it turned out. Legislatively, we hoped COP26 would be a real turning point for climate action. And yet fossil fuel consumption has not been halted, loss and damage aid is less than we hoped and the goal of 1.5 degrees now likely sits beyond our reach. In this way, COP26 certainly did not achieve what we hoped. COP is only two weeks of every year, we now have another fifty to take the fight home, to build on our unity, and to keep fighting for climate justice." 
The Bog babes' hope for people to be united through calling for action for both nature and climate was prevalent throughout the conference: "We hoped that COP26 would bring people together to discuss the issues and unite in the face of climate adversity. This, we feel, is where COP26 was successful. Attending COP was amazing and inspiring, not because of the delegates and politicians, but because of the raw passion, energy and determination of those raising their voices outside the debating halls. People really came together to discuss their concerns and worries and found solace, however small, in their shared eco-anxiety about the future of the planet."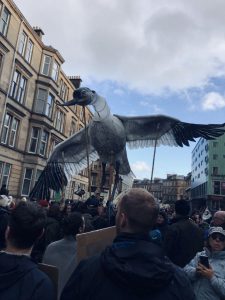 Global Day of Action for Climate Justice March, 6th November (Nature day at COP26)
The Bog babes highlighted how positive it was to see nature addressed more during COP26 than in any previous climate conference: "Solutions using nature were included along with firmer legislation to protect and restore vital ecosystems. The event also hosted the first ever Peatland Pavilion which showcased the vital role which peat has in carbon storage, whilst nature featured in numerous events across the conference."  
"In short, it was uplifting to see nature at the forefront of COP26 and to see greater recognition of the interlinked nature and climate emergencies. However, nature must not be taken for granted – action for nature must coexist alongside phasing out fossil fuels, creating safeguards for nature, climate mitigation and providing loss and damage aid for countries worst affected by climate change. We cannot solve one crisis without the other. The proof, of course, lies in the year to come – let's hope nature lies at the heart of COP27." 
The Bog babes stated: "The Scottish government needs to listen to the science. During the early months of COVID-19, our governments kept telling us to listen to the science for it was, and remains, our best defence. And yet when it comes to the climate crisis, they remain woefully impassive to the insurmountable evidence before them." 
"They need to put nature and climate issues before political discord and debate passionately with other governments to ensure collectively they are working in the best interests of the environment. Ultimately, they need to listen to the voices of those groups often left out of these discussions – indigenous people, the youth, the LGBTQIA+ community, BAME communities, disadvantaged communities and farmers – to name but a few. We are a stronger challenge to the nature and climate emergencies together, and it's time they realised that." 
Deborah Long, Chief Officer of LINK shared some concluding thoughts: 
We're a bit nearer than we were to limiting global temperature rise to 1.5oC. The language is more urgent, alarms are truly ringing and the noise from civil society is showing governments that people  care deeply and that action is required against vested interests. But we are not moving fast enough.  And even where we do have commitments we need those to be acted upon so that next year when CoP comes back, it will be entirely feasible to close the gap between emissions now and limiting their impact to 1.5O C warming. This is where civil society is going to be so important over the next 12 months, by people continuing to be loud about what needs to be done. 
In Scotland specifically, the government can continue to show the leadership towards a more equal and environmentally healthy world, working with others across borders to achieve that and listening to the voices of the younger generations. Halting the exploitation of new reserves of finite resources will be key, involving local people in decision making around local resources including nature and enabling everyone to have access to a safe home, healthy food and thriving nature is where Scotland should now be showing the way. 
Many thanks to Mike Robinson, Calum Duncan, Catherine Gemmell, the Bog Babes (Rob Knott, Tamara Lumb, Amelia Hayward) and Lang Banks for their contributions to this blog. 
This blog concludes the LINK Thinks COP26 series. Click here to read the series of blogs by LINK staff, members, Honorary Fellows and invited guests who, over the two weeks of the climate conference, highlighted the COP26 presidency programme with a nature-climate twist.