01 Apr 2021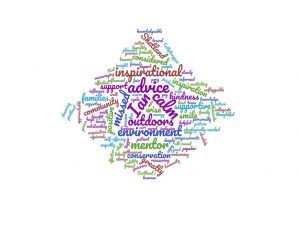 Ian Findlay has been a  part of the LINK family for a long time. He served on LINK Board from 2002, but was involved in the network as the LINK member rep for Scottish Wildlife Trust before then. As a LINK Board member between 2002 – 2017, Ian was also part of the Board's Employment Sub Group. In 2017, Ian was elected as an Honorary Fellow to LINK. His support for the LINK staff and the wider network was not limited to his formal roles however: he was instrumental in setting up and reviewing LINK's internal policies on employment and salaries and he contributed hugely to developing our early systems for work planning and evaluating impact, working closely with both Chief Officers, Jen and then Deborah.
His calm and steady presence, his wise advice and his unstinting support for LINK and the work it does with its member bodies will all be remembered by everyone who knew and worked with Ian. We have gathered some memories and stories of Ian that illustrate the immensely positive influence he brought to us all and the huge affection in which he was held.
Ian was a Board member of Scottish Environment LINK when I joined in 2003. He was very welcoming, knowledgeable, calm and encouraging and I took inspiration from that. I enjoyed talking to him about conservation, biking and his involvement with the community acquisition of Cultybraggan camp. When he moved to Paths for All we worked together on a couple of projects to encourage more people to enjoy the outdoors and plant trees. He stayed connected with Scottish Environment LINK after finishing as a Trustee and always remained willing to share his sage advice. He was just an all-round good guy and the world is much worse off without him.
Andy Fairbairn, LINK Board member 2003 – 2011
Ian was an inspirational colleague.  We benefited hugely from his calm and collegiate approach, his insight and wise counsel in helping us pick our way through some pretty challenging and sensitive issues  and the humility with which he did this. I remember a collective sigh of relief each time Ian confirmed his willingness to continue his engagement with the LINK board. My memory of Ian is of someone so genuine and thoughtful in how he engaged, listened and contributed and the warmth of his smile.
Dan Barlow, LINK Board member 2004 – 2011
Through the mists of time I can't recall whether or not Ian was already on the Board when I joined as Treasurer, but I do remember how helpful and supportive he was with many of the internal issues we worked on together. His approach was considered and patient, regularly taking time to step back to view the bigger picture – and challenge the status quo or established view when required.
He also had great people skills, taking time to consider the impact of Board and management decisions on LINK staff, and seek their input wherever appropriate, ensuring that conversations were well informed and inclusive of stakeholders.
We established a number of sub groups on the Board around that time to look at specific topics and unsurprisingly Ian was in high demand for many of these, and typically generous with his time and contributions.
I hadn't worked with Ian in a long time, but the experience stayed with me, and I was shocked and saddened to hear of his death. I know he'll be greatly missed by many.
David Downie, LINK Board Treasurer 2002 – 2010
I joined LINK Board in 2004 and always looked to Ian as  a source of expert advice. He influenced the way I look at things now. Much more recently, when I joined the LINK staff team in 2019, I asked Ian if he wouldn't mind mentoring me for a bit while I found my feet. He agreed, of course, and I was lucky enough to be able to draw on his guidance and advice whenever I needed it. It was hugely reassuring to me knowing Ian was there ready with a wise word or two, and continually lifting my thinking to higher levels to identify and work towards working out how LINK as  a network could deliver a top notch service for its members and Scotland's environment. We never finished that piece of work of course, but I will continue it and remember Ian's advice to keep looking up, keeping looking for inspiration across sectors and most of all, keep drawing inspiration and energy from being outdoors. His mantra of work is not where you are, it's what you do will always remain with me and is how I now use my surroundings whether outside or in, to tussle with challenges and explore solutions wherever I am.
Deborah Long, LINK Board 2004 – 2014; LINK Chief Officer 2019 onwards.
My main experience with Ian was on the Board of LINK for many years. He was charming, considered, unflappable, fair, positive, never brash or arrogant, always calm and effective in his advice and decision making. An absolute pleasure to be in a room with and spend time with.
Jonny Hughes, LINK Board member 2007 – 2012
Having grown up in Comrie, I had the privilege of knowing Ian for almost all my life. He was an important and popular member of our village community. My earliest memories of Ian are learning to horse ride on the Shetland ponies he and his wife Andrea owned. Andrea and Ian were incredibly patient and kind to my sister and I as we struggled to stay on board the very small (but strong) ponies! I was excited to find out Ian was an Honorary Fellow of LINK when I started working here over a year ago. He was always interested in what I was up to at LINK whenever I bumped into him out for a walk or cycle in Comrie. Ian walked the walk by sharing his passion for the environment with many and cared deeply for the place people have within it. He will be greatly missed. My thoughts are with Andrea and his lovely family, his friends and his Paths for All colleagues.
Juliet Caldwell, LINK staff
Ian's engagement with LINK covered decades of the network's development. Where I particularly became aware of the value of his contribution was post-Parliament establishment, when it felt as though the heat was really on at LINK, in terms of amount to be done vs. tiny size of staff and huge aspiration of network in advocacy terms.  Ian was among the people I could go to for advice. 
Ian was a key contributor to advising on appropriate handling of and support for 'pressure at the centre' process.  For a period, there was no available line manager for me and that led to a few interesting dilemmas, which Ian and others helped me through. It was Ian mainly who advised us on a salaries process that was shared, fair, amendable, projectable, including scales, expectations around progress through increments, etc.  Not many people's pigeon but oh boy did it feel good to have something professional in place, at last!
Ian made time if asked for help, was never too busy to advise and input; where he undertook to help in a steering group or advisory capacity, as a trustee, Fellow, he delivered. And he was present, could be approached as needed, personally supportive, compassionate.  He understood that the CO role is a challenging and sometimes lonely place to be and I appreciated that he reached out – to me, but also to other staff, to offer his support with the 'tough aspects of the jobs' and make sure we knew we could seek and expect support and mentoring when we needed it. This mattered to LINK's arrangements and relationships.  It was that humanness of Ian's which I feel really stood out.  A lovely, and fine man.
Jen Anderson, LINK Chief Officer, 1987 – 2019.
I always found Ian to be so enthusiastic about LINK work and the environment in general, he always had time for us and was very approachable, really just a lovely man.
Karen Paterson, LINK staff
I don't have any specific stories about Ian, simply that I was always struck by how friendly he was and how kind he seemed, always with a smile and time to chat.
Lisa Webb, LINK staff
Ian and I were at University together and, working in similar fields, our professional paths have crossed many times over the last 40 years.  Throughout his career, at SNH, HIE, SWT and PfA, Ian demonstrated outstanding knowledge and enthusiasm for protecting Scotland's environment and encouraging us all to enjoy and benefit from it. He was always self-effacing and keen to engage and mentor others to pass on his expertise and nurture his enthusiasm in others. As a fellow Board member of Scottish Environment LINK, where we overlapped for 10+ years, he was always strategically-minded and focused on maximising the benefits of the organisation (to the environment and its members), but also calm, reassuring and inspirational.  He will be much missed, especially by the environmental sector. My sincere condolences to his family.
Lloyd Austin; LINK Board member 2000 – 2013; LINK Chair 2003 – 2006
I first met Ian when he joined the Scottish Wildlife Trust which would have been around 2000. Ian had joined us from Scottish Natural Heritage as our Director of Conservation and was my boss at the time. I've been thinking about the work we did together then and how some of the ideas and initiatives continue in some form or another to this day. Red squirrels, peatland campaigns, reintroduction of beavers all had their origins at SWT around that time. But these important contributions to Scotland's nature conservation history aren't what I think about when I think of Ian. It is the man himself, his humanity, kindness and empathy above all else which I will remember. I car shared with Ian and Steve Sankey on our daily commute to Cramond and the conversation would more often than not be focused on our families and how we were spending our time outdoors. Selfless as ever Ian organised to have my baby daughter have her first horse ride – on a feisty wee Shetland pony called Chuckie. Imogen has kept up her passion for horses and has Ian to thank for her first experiences. I stepped into Ian's shoes as the Director of Conservation when he moved on to lead Path's for All – which we all felt was such a natural fit for Ian. We kept in touch and would often bump into each other on the train and our conversations would more often than not revert to our families, Ian now a proud grandfather. He gave so much to Scotland's active travel and nature conservation sectors and he will leave a big gap but my memories of Ian are of our quiet conversations and the care, kindness and support he showed me. It is why I will forever think of Ian as one of the most decent human beings I ever had the privilege of calling a friend.
Stuart Brooks, Scottish Wildlife Trust
Our work, in LINK, is to protect and restore Scotland's environment and enable and support everyone to access and enjoy it wherever they are. This is why Ian supported us: we will continue in honour of his legacy and all the help he gave us over many years.
Ian's family have set up a memorial grove for Ian to continue his passion and support for Scotland's native woodland. Details are here:  https://treesforlife.org.uk/groves/307813/