11 Dec 2015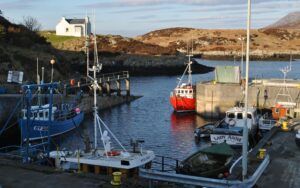 Placing proportionate limits on bottom-towed fishing could help boost long-term jobs in fragile rural communities, as well as protect the environment, contend a coalition of Scottish charities. The Scottish Government is due to announce measures for managing fishing in several Marine Protected Areas (MPAs) later this month. Scottish Environment LINK's Marine Taskforce has written to the Scottish Parliament with the findings of an economic review which highlights the benefits that protection of seabed habitats could provide.
Drawing on the report, the environmental groups say that if the Scottish Government ends the practice of towing heavy fishing gear, such as mechanical dredges and weighted demersal trawl nets, across protected fragile seabed habitats, then there could be substantial knock-on benefits for local economies.
Over several decades the health of Scotland's inshore seas has declined and yet until now there have been few attempts to spatially manage and recover the remnant biodiversity of the inshore area. The emerging MPA network is a key part of the Scottish Government's plan to recover our seas. Management proposals have been criticised in recent months, but environmental groups have carefully considered concerns expressed about the economic impacts of curtailing prawn-trawling and scallop dredging in MPAs. When considering hypothetical scenarios in which bottom-towed fishing is excluded from protected areas, the report recently commissioned (by the Marine Conservation Society, MCS) concluded that rather than damaging the local economy, such measures could potentially provide substantial net benefits to coastal communities, for example by providing new opportunities for other forms of fishing and commercial marine activities.
The report authors argue that other analyses have not considered the major commercial significance of the "spillover effect", where fish and shellfish stocks recover within protected areas and move out beyond MPA boundaries, as well as allowing other activities to thrive in areas previously subjected to trawling or dredging.
Calum Duncan, Head of Conservation Scotland, Marine Conservation Society and convenor of Scottish Environment LINK's Marine Taskforce said: "Whilst we are not advocating blanket bans throughout all the MPAs, the report MCS commissioned does clearly underline why we must start making management decisions for the long-term health of our seas, all marine wildlife and the coastal communities that rely upon them, instead of locking in short-termism. By looking after Scotland's seas better, we can safeguard fishing and other economic opportunities now and for the future. A network of well-managed MPAs is therefore a sound investment for this and future generations."
Sarah Dolman, Senior Policy Manager at Whale and Dolphin Conservation said: "Management developed specifically to protect and recover important seabed habitats would have knock-on benefits for all habitats and species below the waves, from fish nurseries to Scotland's largest filter-feeders, such as humpback whales, minke whales and basking sharks. A healthy seabed provides for a healthy and productive sea, both for its inhabitants and for us."
Dr Richard Luxmoore, Senior Nature Conservation Adviser, National Trust for Scotland said: "For decades we have deployed a form of fishing that drags heavy gear over our seabed. This has undoubtedly contributed to declining marine biodiversity in our inshore seas, whilst we depend on a decreased range of fish and shellfish stocks. Something has to change. Protecting and allowing the expansion of the remaining pockets of biodiversity in our inshore area is a good start."
This press release was sent on 10th December 2015