23 Jun 2017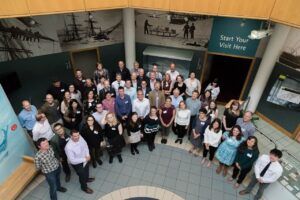 Hosted at the RRS Discovery Centre, Dundee, the second Sea Scotland conference drew together Scotland's marine users, scientists, policy makers and more to share knowledge and discuss solutions to some of the greatest challenges and opportunities facing the sustainable management of Scotland's marine area.

Following the EU referendum result of June 2016, discussion this year focused on the implications of constitutional change on environmental policy to secure progress to sustainable development.
Keynote speaker Roseanna Cunningham Cabinet Secretary for Environment, Climate Change and Land Reform pointed to the great steps Scotland is taking to protect our marine environment and reaffirmed Scottish Government's commitments to maintaining existing Environmental Protections provided within EU Law. The Cabinet Secretary also took the opportunity to announce the launch of Scottish Government's strategy for monitoring Scotland's Marine Protected Area (MPA) Network. The scheme will seek to involve the fishing industry and local communities in data collection and is a welcome and urgently needed step to increase the knowledge base of Scotland's MPAs and marine ecosystems.
Roseanna Cunningham also recognised the important role of citizen science, particularly citing the value of Seasearch, the underwater survey project co-ordinated by the Marine Conservation Society, in the recent recording of 'shocking' damage to flameshell reefs in Loch Carron. The Cabinet Secretary went on to say:
"The incident in Loch Carron has brought into sharp focus consideration of how we conserve our seas beyond the MPA network. We need to manage the rest of our seas appropriately. A review of the most vulnerable priority marine features has begun, to ensure that development and use of the marine environment is not having a significant impact on their status. This is a task of considerable magnitude and there will be opportunities for you to engage with this process in the coming months."
Susan Davies, Director of Conservation at the Scottish Wildlife Trust spoke on Scotland's activities in relation to the UN Sustainable Development Goals, pointing to the need to better understand and utilise blue carbon stores in Scotland's seas to help Scotland reach its climate change targets.
International experts, Colin Moffat from Marine Scotland, and Mark Tasker from the International Council of Exploration for the Seas presented on the regional mechanisms – OSPAR and ICES among others – that exist to supporting continued progress to sustainable development.
Critical topics such as conservation, science and governance were key themes throughout the day. Delegates from across the spectrum of marine industry, government, NGO, academia and community interests took part in workshops to collaboratively address the sustainable use of Scotland's seas. Roundtable discussions focused on the existing challenges to achieving sustainable development, within Food; Ports and Energy; and Recreation and Tourism sectors. Questions around on-going funding to support sustainable activities, how to improve science communication and ocean literacy among others emerged. To close the day, participants took part in workshop sessions to collaboratively consider on the perspectives and priorities across Scotland's wide-ranging sectors and interests.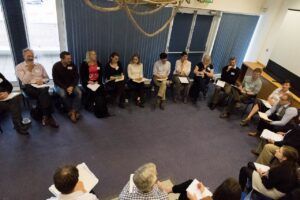 Scotland is required to achieve sustainable development for our seas. In practice, this means delivering socially just and equitable use of marine resources within the environmental limits of the sea's capacity to replenish them. We may not know exactly where we are on the road to marine recovery, but the important point is that, regardless of constitutional arrangements, all agree the trajectory must be to improve the health of our seas, both for their intrinsic value and the many benefits they provide. Sea Scotland was an important opportunity for stakeholders to help explore this together.
The event was co-organised by seven organisations, including Scottish Environment LINK Marine Group members, and built on the success of the inaugural Sea Scotland conference held in June 2016 that provided a multi-interest forum for dialogue and knowledge-exchange in relation to marine planning in Scotland. A report capturing talks from the day is currently being put together.
For more information check out the full programme and visit seascotland.scot.