12 Jul 2017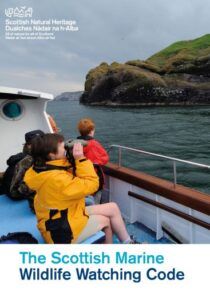 Summer is upon us, and for many that means heading to the coastline to catch a glimpse of some of the amazing wildlife Scotland's beaches and seas play host to. Scotland's coast is arguably the best place in Europe to see dolphins, porpoises and whales, attracting visitors around the world. Basking sharks – the second largest fish in the world – can also be seen in west coast waters in the summer months, as can magnificent seabird colonies, seals, otters, osprey and more.
Watching wildlife can enhance our understanding and appreciation of the natural world, and has also become increasingly important for tourism and the Scottish economy. Yet, our activities can have an impact on the animals we are observing and their habitats – and some species, such as dolphins and whales are protected against harassment by Scottish law.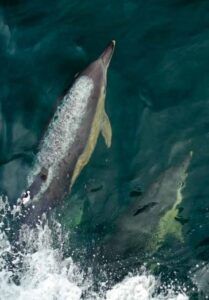 To encourage people to enjoy the natural environment in a respectful way, a revised edition of the Scottish Marine Wildlife Watching Code (SMWWC) produced by Scottish Natural Heritage (SNH) has been launched. The Code raises awareness of the best way to view these magnificent creatures, without disturbing them. This includes information on activities that are likely to disturb marine wildlife, circumstances in which wildlife may be approached, and the best manner to view wildlife with minimum disturbance. For example – though it might seem tempting to some to get up close and personal with a basking shark, the Code still advises against diving, snorkelling and swimming with marine wildlife and basking sharks as it could disturb the animal, and put you at risk.
The Code has three guiding principles:
Be aware – learn about the animals you may encounter and how your actions could affect them.
Take responsibility for your own actions – constantly assess the wildlife's reaction to your presence, if you see signs of disturbance quietly move away.
Have respect – for other people, wildlife and the environment.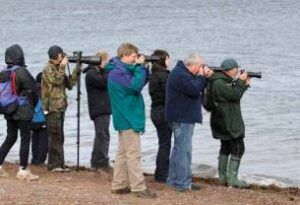 The Code is complemented by a Guide to Best Practice for watching marine wildlife.
Watch wisely to ensure Scotland's waters remain a safe home for these magnificent creatures and the benefits they bring, for generations to come.
Planning to be out on the water a lot this summer? Check out the revised Wildlife Watching Code here.
Photography: Lorne Gill/SNH, Becky Duncan Photography, Graham Saunders and George Stoyle.