09 Jul 2015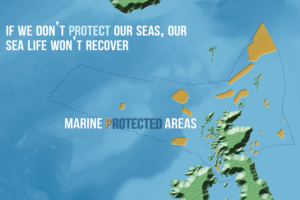 This blog has attempted to chart the long, and sometimes torturous, process of setting up Marine Protected Areas (MPAs) in Scotland. Many of you may be wondering what is happening with Scotland's MPAs? Are they going to be paper parks? Or are they finally going to help reverse the fortunes of our inshore waters, which have suffered such serious ecological decline? Before wading into the detail of this post, we urge you to read our Running History of MPAs in Scotland. If you've seen that, read on…
There is a lot of noise around the MPAs right now. Some (not all) fishing groups are criticising the MPA process at a crucial stage. We need to re-wind a bit here to understand why this is the case. And to fully grasp the situation, we also need to understand the structure of the Scottish fishing industry.
A few weeks ago, Marine Scotland published its lengthy analysis of a very significant public consultation. The consultation was the latest step in many years of planning, public and stakeholder engagement. It considered possible fisheries management options for protecting 'high risk features' in 19 of Scotland's new inshore MPAs and existing inshore SACs (the new MPAs had been legally designated in August 2014, but fishing in the MPAs and SACs will continue unchanged until new management is agreed and separate regulations, via Marine Conservation Orders and Fishing Orders are enacted).
When this consultation was first published, environmental groups (and many others) were concerned. After months of engaging with fellow stakeholders via regional workshops (South West, North West, East) we were disappointed not to see some more progressive management on the table for many of the sites. Marine Scotland had summarised the range of possible management scenarios discussed at the regional workshops; but we firmly felt that some options should also have been included in the consultation. To give an example, Marine Scotland were proposing to manage Loch Sunart to Sound of Jura MPA like this:
Environmental groups, recreational anglers and other local commercial interests were advocating much more progressive management of the site to protect areas in the Firth of Lorn and larger areas of the MPA from scallop dredging. See page 37 of our consultation response.
That's why we launched our DontTakeTheP out of MPAs campaign. We were seriously worried that the MPA process was heading towards a minimalist approach that would allow bottom trawling and dredging fishing methods to continue largely unchanged. This threatened to embed the status quo of unsustainable fishing activity and dent the chances of really looking after sensitive areas of our inshore habitat for the long-term benefit of our marine environment and the sustainable fisheries and coastal communities which depend on it.
This campaign chimed with many different communities and articulated what a lot of people in Scotland have been thinking: we need to properly protect our marine habitats and biodiversity from more damaging types of fishing for the long-term ecological health of our seas. We responded in good faith, arguing on the basis of available evidence that proportionately stronger management for many of the sites was justified on ecological grounds. Thousands of people agreed with this and between December 2014 and February 2015, the Scottish Government received over 4,700 consultation responses, the majority of them calling for simpler management that would benefit the species and habitats the MPAs were designated to protect.
This consultation, like every Government consultation, was analysed and the Scottish Government published its findings along with a set of draft management measures for the MPAs. For many of the sites, this was, and remains, uncontroversial. All stakeholders agree that bottom-towed fishing gears should be excluded from many of the MPAs, mainly because there is comparatively little such activity in these sites. But for four of the sites (South Arran, Loch Sunart to Sound of Jura, Small Isles and Wester Ross MPAs) the Scottish Government simultaneously launched a consultation on the revised measures that would be implemented via Marine Conservation Orders. These measures differed from the original consultation options – and that's why the Scottish Government are re-consulting.
There's another boring but important detail: we thought at the time that the December-February consultation was the first of two opportunities to comment about management before the revised measures for MPAs were published. We were not alone. Alongside other organisations and fishing industry representatives, we expected that there would be further "stakeholder discussion" (via the regional workshops) to consider the management needed for lower-risk habitats (such as burrowed mud) in some of the sites.
This bureaucratic nuance may sound trivial, but it is important and is now contributing to some of the current mood about MPAs. To understand what's going on, it's worth reading a very significant newspaper article that ran in the business section of the Sunday Herald: Fishermen's groups claim new seabed controls threaten livelihoods. Whilst the article reported that some fishermen (represented by the Scottish Fishermen's Federation) were worried about the MPAs, it also reported that the Scottish Creel Fishermen's Federation were supportive of the MPAs. It was the first time that one of Scotland's national newspapers has highlighted this crucial complexity of the fishing industry in the MPA debate. If you don't have time to read it all, it can be summarised here: 'mobile' fishermen (prawn-trawlers and scallop-dredgers) are in general surprised and not pleased by how much the measures have changed and feel that the process has not managed their expectations effectively; 'static' fishermen (creelers and divers) on the other hand are in general not opposed to the MPA measures, and are pressing for wider regulation of the inshore.
It is important to put these two views in perspective. The majority (almost 80%) of boats operating in Scotland's inshore are crewed by fishermen using dive or creel (static) methods of fishing (source Options for Change report). The four MPAs currently subject to consultation are all on the West coast. It is worth remembering that not all Scottish fishermen are members of a fishing association, but many are and their representation is crucial. The Scottish Fishermen's Federation (a coalition of mainly 'mobile' fishing associations) represents approximately 100 boats operating on the West coast (which are mostly scallop-dredgers and prawn-trawlers). The Scottish Creel Fishermen's Federation (also representing fishing associations) represents approximately 250 boats (all creel vessels) operating on the West coast.
It therefore does not seem to be the case that all fishermen are unhappy with the MPA measures. We recognise that almost all fishermen are cautious about MPAs and are worried that they might be the thin end of a wedge. But it is significant and encouraging that the largest sector of Scotland's inshore fishery is indicating support for these MPA measures.
At the same time we are keen, as fellow stakeholders, to understand the "process concerns" expressed by those fishing associations which represent scallop dredging and bottom-trawling methods. In the consultation analysis, the Scottish Government now explains that the draft measures reflect management for low-risk features (as well as the previously consulted high-risk features). We note that a follow-up workshop process for the lower-risk features in some sites in this first tranche of management discussions could have helped to manage the expectations of all stakeholders, but our perspective is clear: a convincing and important case has been made during a public consultation process for proportionate and effective management that can contribute to the legal requirements to enhance the health of the seas and ensure sites in the MPA network are 'well-managed.'
In short, we do not agree that the MPA measures go too far. The scallop-dredging and bottom-towed prawn-trawling fleet are currently arguing that the plans have gone further than was reasonable. However, we support the measures on the basis of available evidence and sound use of the precautionary principle. On a case-by-case basis, we will also highlight areas where tighter management for mobile fishing would be justified for achieving site-wide objectives. We firmly contend that ecologically meaningful and administratively simple management is for the long-term benefit of Scotland. This is at heart an environmental argument, but it is also an economic one: healthy seas = healthy fisheries = healthy communities.
We also do not agree that the MPAs are a done deal. The Scottish Government has made clear that there is a consultation window to feedback on the four proposed Marine Conservation Orders. Views are being sought until 9th August. We place trust in this process and will continue to advocate for progressive management that respects the natural asset of our seabed habitats that we all depend on.
We stress again for clarity, that we acknowledge the immense effort that Ministers and staff at Marine Scotland have expended on stakeholder engagement in this area. It is an incredibly complex area of public policy and it will have impacts for fishermen: some challenging in the short-term, but all positive in the long-term. We have tried to summarise this in our op-ed article for the Scotsman (published last week) Targeted Marine Action Works.