09 Oct 2012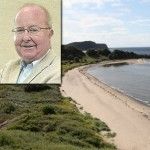 Scottish Environment LINK's president, Ross Finnie, discusses the golden opportunity to improve how we govern our marine resource and explains why we must make sure that history does not repeat itself…
The influence of the environmental sector in getting the Marine (Scotland) Act 2010 on to the statute book was considerable and it was a major achievement. Everyone is now focussed on the precise delineation of and the powers to be exercised in the Marine Protected Areas (MPAs).
I share the view that this is a substantial opportunity to effect a major policy shift in the sustainable management of our seas with enforceable controls that put environmental considerations at the heart of the process. MPAs can help put the 21st century ambition of the Marine Scotland Act into practice.
I'm very glad LINK has launched the Save Scottish Seas website to attract as much support as possible for measures that will make a difference. I think, however, that there is a great deal of work to be done to make the positive case not only for an ecologically coherent MPA network but also that the management measures are tightly drawn and clearly enforceable. This will inevitably draw stiff opposition and this should not be underestimated.
It's not an exact parallel, but I encountered a foretaste of this in 2006. Scotland's two terrestrial National Parks were recently added to the statute books and seemed to have been well accepted, most importantly by those who earned their living within the boundaries of the parks. As the then environment minister I went on to propose a coastal and marine park. As with MPAs, SNH were asked to scope possible areas but with no firm commitment to 'designate'. All hell broke loose! Despite the fact that farming had continued in the terrestrial parks, it was claimed that a coastal and marine park would mean the end of all forms of marine economic activity, that the selected area would be economically blighted and remote rural communities would disintegrate. In the face of such stern opposition the preliminary proposals had to be withdrawn
The already cogent arguments in favour of MPAs still stand: long term protection of the marine resource, upon which fishermen and many other economic activities rely, as well as the duty to be stewards of our environment for future generations. But these arguments need to be refashioned so that they can be fully understood by a wider audience and command the support of that wider audience. This will require everyone's openness, patience and collaboration and the support and courage of our representatives.
Ross Finnie, President of Scottish Environment LINK.