11 Oct 2012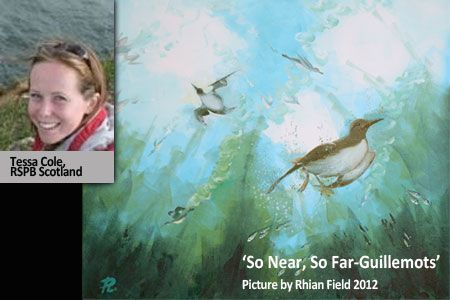 RSPB Scotland's Tessa Cole explains how a ground-breaking bird-tagging initiative has inspired an art exhibition and raises the profile of seabirds at a critical chapter in Scottish legislative history
A pioneering programme, fitting tiny sat-nav style tags to seabirds, is the inspiration behind a new exhibition opening this weekend at Glasgow's Kelvingrove Art Gallery & Museum.
The Future of the Atlantic Marine Environment (FAME) project saw scientists, from organisations such as the RSPB, attaching small tracking devices in order to find and protect important feeding areas for seabirds.
The ground breaking data has furthered knowledge for seabird conservation and has also inspired a group of artists to stage an exhibition. 'Sea art in a different way' is the brainchild of wildlife artist Jane Smith and RSPB Conservation Scientist Ellie Owen, following a chance meeting on the seabird cliffs of Colonsay.
Together they explored ways of sharing the magic of a seabird colony with the wider public. "Scotland's seabird colonies are a long way from the city centre of Glasgow, but with their bustle and energy and noise there are many similarities," explains Jane Smith. "Personally, I take great pleasure knowing that our coastline is home to creatures other than ourselves, who are searching out different solutions to the problems of daily life that we all share."
Ellie Owen, RSPB's lead scientist on the FAME project, agrees: "This project has really opened our eyes to the secret world of seabirds such as kittiwake, shag, razorbill, guillemot and fulmar. These tiny trackers tell us so much, from how far the birds travel for food to how deep they dive. This in turn is helping inform discussions on management of marine areas so that the needs of seabirds can be met."
Marine Protected Areas (MPAs) are vital to manage our precious marine resource and protect the biodiversity of our seas. In spring 2013 the Scottish Government will be consulting on proposals for a MPA network, but unfortunately proposals for the network do not include specific protection for feeding areas for birds at sea.
RSPB Scotland is deeply concerned by this gap as many of Scotland's seabird populations are in decline and has launched a petition for the inclusion of seabird protection in the MPA network.
Come along to the FAME exhibition and be inspired to support protection for seabirds at sea.
The 'SEA art in a different way' exhibition runs from 13 -21 October and entry is free.
For more information visit http://www.rspb.org.uk/events/