20 Oct 2015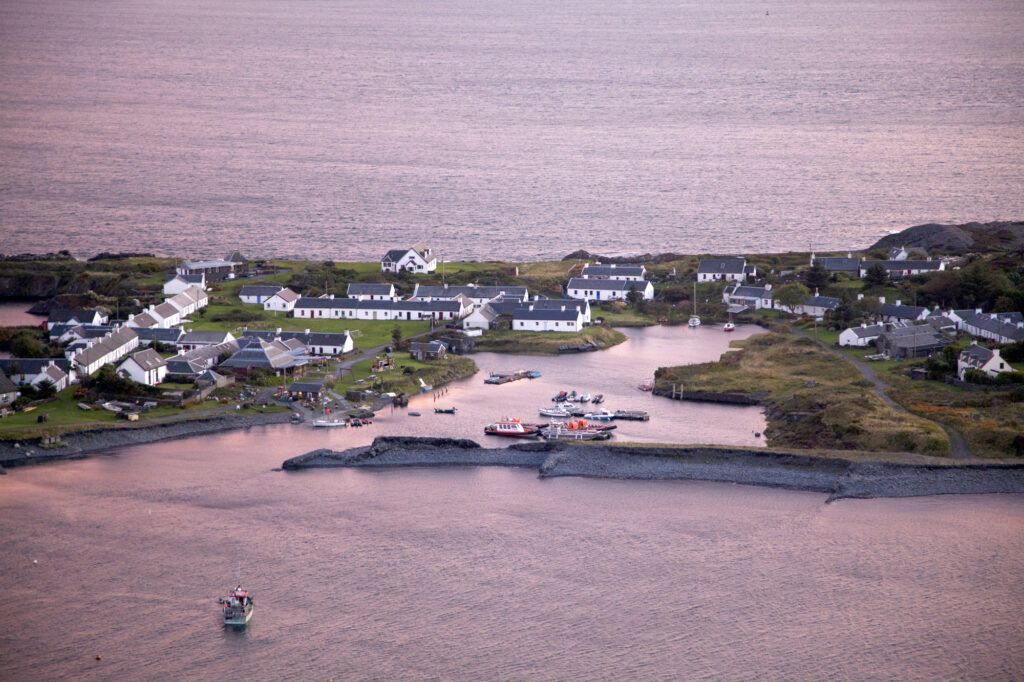 Marine Protected Areas (MPAs) have come under some heavy fire from some fishing representatives for potentially "devastating" socio-economic impacts, but we contend MPAs will help to recover our seas and boost the resilience of coastal communities in Scotland. In this blog, we explain why a lot of people around rural Scotland, including many progressive Scottish fishermen, agree: by looking after our marine environment, MPAs can be part of a rural and coastal revival.
It's now not helpful pretending otherwise: MPAs have become a wee bit divisive. We've charted here, here, here and here the various twists and turns of developing a network of Scottish MPAs. But if you don't have time to read, here's a quick re-cap: these MPAs are 'in the water' (ie they were designated in 2014) but there is still no comprehensive fisheries management (except for emergency measures in South Arran and Wester Ross), which means that our fishing fleets continue to catch fish within these parts of our inshore waters just like before – using a variety of methods such as trawling, dredging, netting, creeling and angling. Some of these methods of fishing can damage seabed habitats if deployed in the wrong place – and that is having chronic consequences for the condition of our seas; over centuries of exploitation we have lost – and are still losing – vital seabed habitats which provide an underwater mosaic of nursery and spawning grounds for fish and a range of other benefits. This situation won't change until fisheries management is developed via separate legislation. The Scottish Government is right now in the process of making this happen.
We have put together this timeline, a short one and a longer one to explain the various stages of developing this management (which might not always be clear when chewing through Government documents and reading news articles.
The short version
1984-2014 –  History of developing MPAs in Scotland
August (7th) 2014 – 30 nature conservation MPAs (17 inshore, 13 offshore) were designated
November (11th) 2014 – public consultation on management of 19 nature conservation MPAs and marine SACs (for management of high-risk marine features). The consultation options meant that the most damaging fishing activity could continue across many of Scotland's new MPAs.
January 2015 – Scottish Environment LINK's marine taskforce launches "#DontTakeTheP out of MPAs" campaign, urging Marine Scotland to adopt a less zonal approach to management and stronger measures for the most damaging fishing methods.
June 2015 – Marine Scotland publish consultation analysis. In response to widespread calls for stronger management and accounting for protection of other lower-risk features, the Scottish Government outlines draft management measures for each site
June 2015 – The Scottish Government launches consultation on four Marine Conservation Orders for managing fishing in South Arran MPA, Loch Sunart to Sound of Jura MPA, Small Isles MPA and Wester Ross MPA.
6th August 2015 – Scottish Creel Fishermen's Federation publicly backs MPAs, but the Scottish Fishermen's Federation expresses serious concern with the proposals
1st September 2015 – Rural Affairs Climate Change & Environment (RACCE) Committee wrote to Cabinet Secretary to ask for more time to consider mobile fishermen's concerns
19th September 2015 – written evidence submitted by stakeholders to the RACCE Committee
23rd September 2015 – RACCE Committee takes evidence from fishing interests
25th September 2015 – RACCE Committee writes to Cabinet Secretary Richard Lochhead – READ HERE
9th October 2015 – Cabinet Secretary Richard Lochhead responds to the RACCE Committee outlining the conservative approach to quantifying impacts – READ HERE
28th October 2015 – Letter from RACCE to Cabinet Secretary Richard Lochhead – READ HERE
The longer version:
In the ideal world, MPAs would have been unanimously embraced as a sapphire opportunity to help our seas to recover; MPAs would be recognised as a challenging, but necessary, measure that will bring long-term public benefits. The comparatively few fishermen affected by the proposals would have been appropriately supported to deal with a transition – and meanwhile fishermen, scientists, coastal businesses and communities could look ahead to monitoring their impact, promoting and experiencing their benefits.
But we don't live in an ideal world…. and MPAs have come under serious criticism from representatives of the mobile fishing industry. It's important to state here that many inshore fishermen have stated their general support for management of MPAs. Notwithstanding the fact that representatives of the largest sector of Scotland's inshore fishery (the Scottish Creel Fishermen's Federation) has lent cautious support to MPAs, representatives of the Scottish Fishermen's Federation have described them as "gratuitous socio-economic vandalism" likely to "devastate" local communities and comparing them to the "Highland Clearances."
Leaving aside reflections on the language used, it is absolutely crucial that these fears are considered. That is key to democracy. And recently they were, by a Committee of MSPs whose job is to do just that: exercise post-legislative scrutiny of how laws are functioning and being implemented. The precise circumstances of this scrutiny were timely and constructive, if not slightly unusual, in that they were actually considering the potential impacts of secondary legislation which had not yet been formally laid before the Scottish Parliament. By the time secondary legislation – in this case Fishing Orders under the Inshore Fishing 1984 Act and Marine Conservation Orders under the Marine (Scotland) Act 2010 – reaches Committee subject to negative procedure, MSPs can only either accept the orders or throw them back for redrafting. This is a big hassle for all concerned, so rather than waiting for a binary 'aye' or 'no,' the Committee wrote to the Cabinet Secretary to request an opportunity to explore the concerns outlined by fishermen. The Minister agreed.
In whose interests?
Fishermen, eNGOs and the broader public got a pretty firm indication of what this secondary legislation would look like when the Scottish Government first published its analysis of the public consultation. It was at this point that the Scottish Fishermen's Federation started comparing MPAs to the Highland Clearances, which – as we will set out below – is not a fair comparison. We have previously documented what we acknowledge to be a source of the concern in the latter stages of this article. But in short the Scottish Government is setting out measures which do not suit the interests of the mobile sector of the fishing industry and that sector was expecting much less onerous management that would have hardly affected its operations – ie the status quo. Instead the Scottish Government decided to manage MPAs in a much more progressive way, restricting damaging fishing from larger areas within the MPAs, although we still regard the measures as containing significant compromise. Our view is that this is not controversial: the Scottish Government consulted on measures, received a large body of feedback and modified its proposals accordingly. That is consultative democracy.
The Scottish Fishermen's Federation has since made various assertions that the Government's figures about the socio-economic costs are flawed and that the MPAs would have a much greater impact on their skippers and on the whole supply chain. To try to back up these claims it commissioned an economic report (see pages 23-48 of the 'MPA Annex' of papers submitted to the Committee). The report claims that the fisheries management would lead to huge loss of jobs that would threaten the very existence of communities such as Mallaig and Tarbet.  However, we find this report is misleading. Indeed, one of our members commissioned a review of the report which has highlighted that the report uses 'non-random' samples of impacts on mobile fishermen and assumes that a fixed percentage (50% no less) will leave the industry as a result of the measures. There is no justification for these assumptions and the result are unsusbtantiated threats of job losses that have served to alarm politicians and communities, rather than present more comprehensive information about the likely overall positive impacts of MPAs. The report makes no attempt to assess the potential economic benefits of the protection.
The concerns, however, were aired publicly at the RACCE Committee's evidence sesssion on the 23rd September. You can read the full transcript here, and watch here (at approximately 33 minutes 20seconds):

but below are a few quotes that indicate the diversity of opinion about MPAs within the broader fishing industry:
An example of the concerns expressed by the mobile sector can be seen below (Kenny MacNab is Chair of the Clyde Fisherman's Association):
"I live in Tarbert, in Kintyre. There are three fishing communities in Kintyre—Campbeltown, Carradale and Tarbert.
Tarbert is probably the most dependent on fishing, and we are pretty passionate about it. We have about 50 full-time fishermen. Even though only three scallop boats are affected by the new measures—two from Carradale and one that works from the island of Luing—the measures will have a large impact, because all our scallops are processed in two factories in Tarbert. Because of the south Arran MPA and the closures in the Sound of Jura, those guys are considering packing it in. If the two small factories in Tarbert close, we are talking about between 12 and 15 jobs being lost. With the fishermen included, the figure could be more than 30 jobs. We have the same scenario as Dave Thompson described for Mallaig. Those 30 jobs equate to 2.5 per cent of the employment in Tarbert; that would equate to 17,500 jobs in Glasgow. If that many jobs were lost in Glasgow, I am sure that the Scottish Government would react fairly quickly.
We see the community of Tarbert being decimated, because all those jobs are held by people with young families. People will not wait in rural communities unless they have a full-time job. If there are only part-time jobs, people will leave for the central belt. In Tarbert, the school roll is at the borderline for closure, so if half a dozen of the families with young children leave, Argyll and Bute Council will close the school. If that happens, the community will die—it will become a retirement home for old people. We do not want that. At the moment, the community is sustainable"
A differing perspective is given by representative of the creel and static sector (Alistair Sinclair is National Coordinator for the Scottish Creel Fishermen's Federation):
"We seem to be painting an awful bleak picture of the MPAs initiative. Many regard the MPA designations as a very positive step forward, with a view to securing inshore fisheries and the communities that so rely on them for the future. A very important fact that we have not yet discussed but which is very important and must be brought to the committee's attention is that MPAs might create many opportunities for more jobs. If we use a clean and green method such as creels, we will benefit the rural communities. Hand diving will come into its own. The financial benefits that will flow through the communities can only be good—they will not be detrimental to the communities. I understand the difficulties that the mobile sector has and the fact that it will be displaced—we will move on to that in respect of the socioeconomic aspect. However, MPAs as a whole must be seen as a very positive step forward, with a view to securing the future of many of the rural communities around the coastline of Scotland."
These quotes highlight very significant points. The MPAs will have impacts (although we think that the MKA report grossly overstates these impacts), but the real point is that MPAs offer far greater benefits. By protecting certain seabed habitats from bottom-towed fishing, MPAs for other types of fishing. Far from the 'clearing' the sea area, it will allow the seabed complexity to recover and support other fishing methods more compatible with – and sustainable for – these areas.
Following the evidence session, the Committee wrote to the Cabinet Secretary to gain clarity about the concerns surrounding the MPA process and the rationale for decision-making following the public consultation.
The Cabinet Secretary's response has been direct and to the point. It replied to a key query about whether the decisions were based on socio-economic impacts. There is a very significant paragraph in the Cabinet Secretary's reply which clearly highlights how and why the Scottish Government went to great lengths to assess the impacts of the MPA management proposals. When developing the Business & Regulatory Impact Assessments for the MPA sites, the Minister explained that "where uncertainty existed regarding the extent of impact upon stakeholders, Marine Scotland consciously adopted the most conservative assumptions possible [italic and bold added] in order to produce 'worst-case' estimates." This is a very important point. The Minister goes on to explain that Marine Scotland deliberately did not even consider the potential for:
fish stocks to improve over time as a result of the MPAs
and alternative fishing methods to expand within the MPAs
This is a point that progressive coastal stakeholders have been making for years. If we look after our seas better, then the health and productivity of our seas will improve. It is for this reason, that Richard Lochhead and the Scottish Government are now leading on these measures to reduce the impacts of damaging inshore fishing methods.
Supporting industry
It is entirely reasonable for the Scottish Government to provide support (via for example assisting access to the European Marine Fisheries Fund) to mitigate the short-term consequences of MPA management for one part of the fishing fleet. Indeed, we have consistently argued this in our campaign material and briefings to politicians. However, we maintain that it would not be reasonable to change the fisheries management based purely on those short-term impacts for one sector of the fishing industry. The proposed fisheries management measures for MPAs are clearly for the broader public benefit of Scotland.
UPDATE: since writing this article, the RACCE Committee has written to the Cabinet Secretary and indicated that it falls to the Minister to make decision about how to manage MPAs and is "anxious that full implementation of MPAs is brought into effect as soon as possible." It has also recommended a future review of the socio-economic impact of MPAs. This would be an opportunity to transparently evidence the short-term and long-term consequences of well-managed MPAs – which we contend would demonstrate an overall benefit to our marine environment, in turn providing secondary socio-economic benefits to Scotland's communities.
NB: MPAs are one important tool for recovering our seas from unsustainable impacts – but they are just one step. As the Scottish Government has recently signalled at the Inshore Fisheries Conference, broader reform of our inshore fisheries is now on the table. Read our other blog for more info.