05 Nov 2021
To mark the COP26 Presidency Theme 'Youth and Public Empowerment', two young people have highlighted Ramblers Scotland's Out There Award. Research, commissioned by Ramblers Scotland in 2017, showed that after 'Scottish weather', young people cited their two biggest barriers to getting out walking as: lack of knowledge and awareness of where to go for a walk, and lack of people to go with. The Out There campaign was launched in 2018, with 'breaking down barriers to walking' as one of its three key objectives and the Out There Award as a key mechanism for delivering that aim.
The free Out There Award has been designed to help kick-start 18 to 26-year-old adults' journeys into the outdoors, while helping them meet people, boost their CVs and build confidence along the way. The award is split over three non-consecutive days, each with a different focus: outdoor skills, a challenging walk and volunteering. Each day is designed to help break down the barriers that sadly stop many young adults from enjoying the outdoors, while helping them to form a new network of like-minded people. During the Covid-19 pandemic, it has been important for young adults to have the skills to enjoy Covid-secure walks and responsibly access the outdoors.[1]
Heather and Iqra tell us of their experiences with the Out There Award; from breaking down barriers that stop many young adults from enjoying the outdoors to recognising the importance of nature for our mental and physical wellbeing.
Heather
I had an amazing experience on The Out There Award. Previously I'd found it difficult to know where to start when getting outdoors, there was so much conflicting information I was overwhelmed on what to bring, where to go, how to plan a route on a walk. But the award provided fantastic guidance on this and more! As an empowered young walker, I've gained an increasing respect and admiration for nature and all it can offer. The programme highlighted the benefits of preserving the natural environment from cutting waste to responsible camping to allow future generations to enjoy all that Scotland has to offer!
Working with an environmental charity is a fantastic addition and emphasises the Out There Award's value for young Scots who would benefit from being educated about walking. But this also benefits those walking with us young people who see us being respectful when engaging with nature. Being knowledgeable about Scotland's access laws has given me the drive to make a difference and ensure walkers such as myself are as well informed as I have been.
As young people we can often lack the confidence needed to get walking so having 1 to 1 help with a patient instructor who celebrated all that Scotland had to offer was much more helpful than watching a video or reading a book on the subject. I believe that finding effective learning methods such as this hands-on programme is the best way to educate and empower youth and improve all of our actions in tackling climate change.
The award was out of my comfort zone but a comfortable environment to make mistakes and learn whilst doing so safely. We could ask questions and engage with an experienced walker something I wouldn't have had access to if it wasn't for the programme. As a student, having an award that was free also motivated me to join in. Many of my peers lack the funds to pay for walking/hiking courses that would cover the valuable information shared in the award and being able to walk and access the outdoors could have an excellent impact on their mental and physical health like it has mine. I think it would be a shame if people like me had to miss out on such a fantastic award and education on Scotland's vital environmental issues.
Overall, the Out There Award has had an excellent impact on my life and the benefits extend well beyond myself, to environmental conservationists, climate change activists, the Scottish government and many more people. Providing a starting place for youth to get involved in the natural environment is all that is needed, from there we can get involved in the fight to prevent climate change in ways the award may have not have even recognised before.
Iqra
Climate change is something that seems far removed: in China's smog cities, in The United States with its industrial complexes and Artic glaciers melting many miles away.
However, climate change is right here, right now.
Until we entered lockdown, I had never realised how close to home, to Glasgow, the climate issue was. Picking up hiking and walking in rural outdoor areas helped me to realise the spaces we seek to protect are on our doorsteps.
I began hiking through the Out There Award with the Ramblers, which reduced my key anxieties for hiking like figuring out equipment, where to hike, and safety issues. It also became a reason why I began reflecting on how proximity to effects of climate change lead to people caring.
The Out There Award provided a year worth of free membership with the Ramblers, and from more hikes with the organisation I began to see how we should preserve these spaces that are a safe haven for both animals and our own mental health.
Deforestation in Scotland means only around 1% of our native pinewoods remain. Fossil Fuels in the U.K. are overused due to a lack of insulation. There are over 12 endangered species in Scotland alone. All of these issues are a stone's throw away, and I can only express shame at not realising this until I got outdoors myself to realise how pertinent these concerns are.
This reflection became further research- people's psychological closeness to climate change correlates with greater concern and greater preparedness to reduce energy consumption. For me and many young people, psychological closeness can come through social media, as although we are not physically near, young people are more intertwined due to a constant bombardment of climate effects.
Empowering and mobilising these Young People, who care but don't know what to do, is an important purpose of education in Climate Action. We know the problems, however we need the options and information to find more solutions. For me, this came through the Out There Award.
Later, I am hoping to do the Out There Award Plus with Ramblers too, which will entail learning about responsible camping and working with an environmental charity to help protect Scotland's natural environment and ecology. I truly believe outdoor education can improve people's motivation towards climate action, as it helped myself realise Climate Change is closely attached to each of us.
As I said, climate change is right here, right now. What will you do next?
[1] https://www.scotlink.org/publication/still-delivering-the-goods/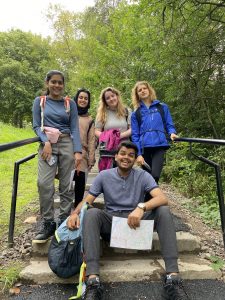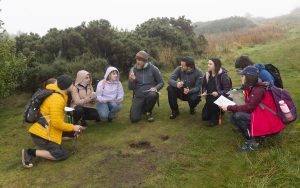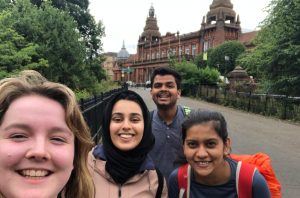 This blog is part of the LINK Thinks CoP26 series. Click here to read the series of blogs by LINK staff, members, Honorary Fellows and invited guests who highlight the COP26 presidency programme with a nature-climate twist.