15 Jan 2016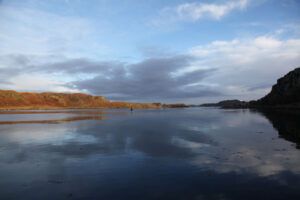 There are just a few days left to push for important measures that will help to recover areas of seabed on the West coast. There is currently very limited specific protection from bottom-towed fishing in our inshore Marine Protected Areas (MPAs). This is due to change soon, but there is still an ongoing discussion about what areas should be off-limits to bottom-towed fishing methods.
Before the New Year, the Scottish Government announced another consultation on revised measures for fisheries management in three MPAs (Wester Ross, Small Isles and Loch Sunart to Sound of Jura).
Our campaign members contend that with the right management in place, MPAs will not only help to recover important seabed habitats, but provide secondary benefits in the form of increased fishing opportunities and positive displacement to areas that could not previously be fished.
However, the consultation now proposes a roll back on measures previously recommended by the Scottish Government as necessary for the protection and recovery of these inshore areas. In fact, there are moves by one MSP to have some other measures (already laid before the Scottish Parliament) annulled before they come into force (read What future for our seabed? An update on MPAs in Scotland in 2016 for more info).
Members of the Save Scottish Seas campaign have recently submitted their joint response to the consultation, but there is still time to submit your views on the proposals, by visiting this page.
We are concerned that the Scottish Government has made changes based mainly on concerns about the socio-economic impacts of the MPAs. We are confident these MPAs will bring long-term social, economic and environmental benefits, but we take such concerns very seriously and as a result the Marine Conservation Society commissioned a review of the economic evidence presented. This study is published here. It questions the methodology for assessing potential job losses and finds that cost-benefit analysis of the MPAs simply does not consider the likely benefits of MPAs, such as spill-over and positive displacement of fishing opportunities, not to mention tourism opportunities and the many hidden benefits of a healthy ecosystem. In short these MPAs present a net gain for out coastal communities and need your support.
Questions during a recent Parliamentary debate have recently highlighted the Scottish Government's acknowledgement that well-managed MPAs not only generally have broad public and community support, but also the support of parts of the fishing industry. In response to one Labour MSP (Rhoda Grant), the Cabinet Richard Secretary Richard Lochhead explained: "I point out to her that there are many sectors in the fishing industry, of which some believe that we are not going far enough with our proposals."
If you have time, consider submitting your own views to this short, but important, consultation.
Read more background:
MPAs are part of a sustainable rural Scotland