Discover Scotland's seas
Have a whale of a time
Mad about marine mammals?
Champion the seas and dive into the deep!
Take the seas by storm
Get wild!
We're always interested to know what is going on locally, if you know of another project or event contact us!
Support a member action
The Hebridean Whale and Dolphin Trust is dedicated to enhancing knowledge and understanding of Scotland's whales, dolphins and porpoises. Visit their website to find out how you can support the work of HWDT and ensure the conservation of our whales, dolphins and porpoises in their natural environment.
Support Marine Conservation Society and get involved in their campaign for protecting Scottish and all UK seas.
The National Trust for Scotland has properties all around the coast of Scotland, including a number in the western and northern isles. We have many opportunities for volunteers to get involved with conserving and managing our properties, with activities such as biological surveys, beach cleans, painting and path maintenance.
Check out RSPB Scotland's work to safeguard our sealife, including campaign work for 14 marine SPAs to better protect Scotland's struggling seabirds.
Royal Zoological Society of Scotland has been working to promote the awareness and conservation of rare and endangered animals for over 100 years. Find out more here.
The Scottish Wildlife Trust believes that new MPAs are vital to safeguard the amazing marine wildlife in our seas and will be working hard to make them a reality. Visit scottishwildlifetrust.org.uk/ and follow them on twitter @ScottishSeas to keep up to date with The Scottish Wildlife Trust's campaigns and Scottish wildlife news.
Support WDC's work to protect whales and dolphins in Scotland and learn more about the Scottish Dolphin Centre.
WWF Scotland's marine work is focused on ensuring our valuable fisheries have a future and promoting the effective implementation of the Marine (Scotland) Act. Further information including updates on WWF's policy and campaign work in this area can be found on the WWF website.
Make a Video!
We need MPAs to help protect and recover our seas. People from around Scotland have taken part in our video to share why they feel this is so important and why they love Scotland's seas. You can share your own views with a short film clip to explain why you want Marine Protected Areas and what you love about Scotland's seas. Your films will then be shared on our Save Scottish Seas video map so the message is loud and clear.
Like our Facebook page

You can show your support for the Save Scottish Seas campaign, by simply visiting the Facebook page and liking it! That way you can keep up-to-date with the latest news about Marine Protected Areas in Scotland and the work of campaign members – Hebridean Whale & Dolphin Trust, Marine Conservation Society, National Trust for Scotland, Royal Zoological Society of Scotland, RSPB Scotland, Salmon and Troust Conservation Scotland, Scottish Wildlife Trust, Whale & Dolphin Conservation, WWF Scotland.
Follow the campaign on Twitter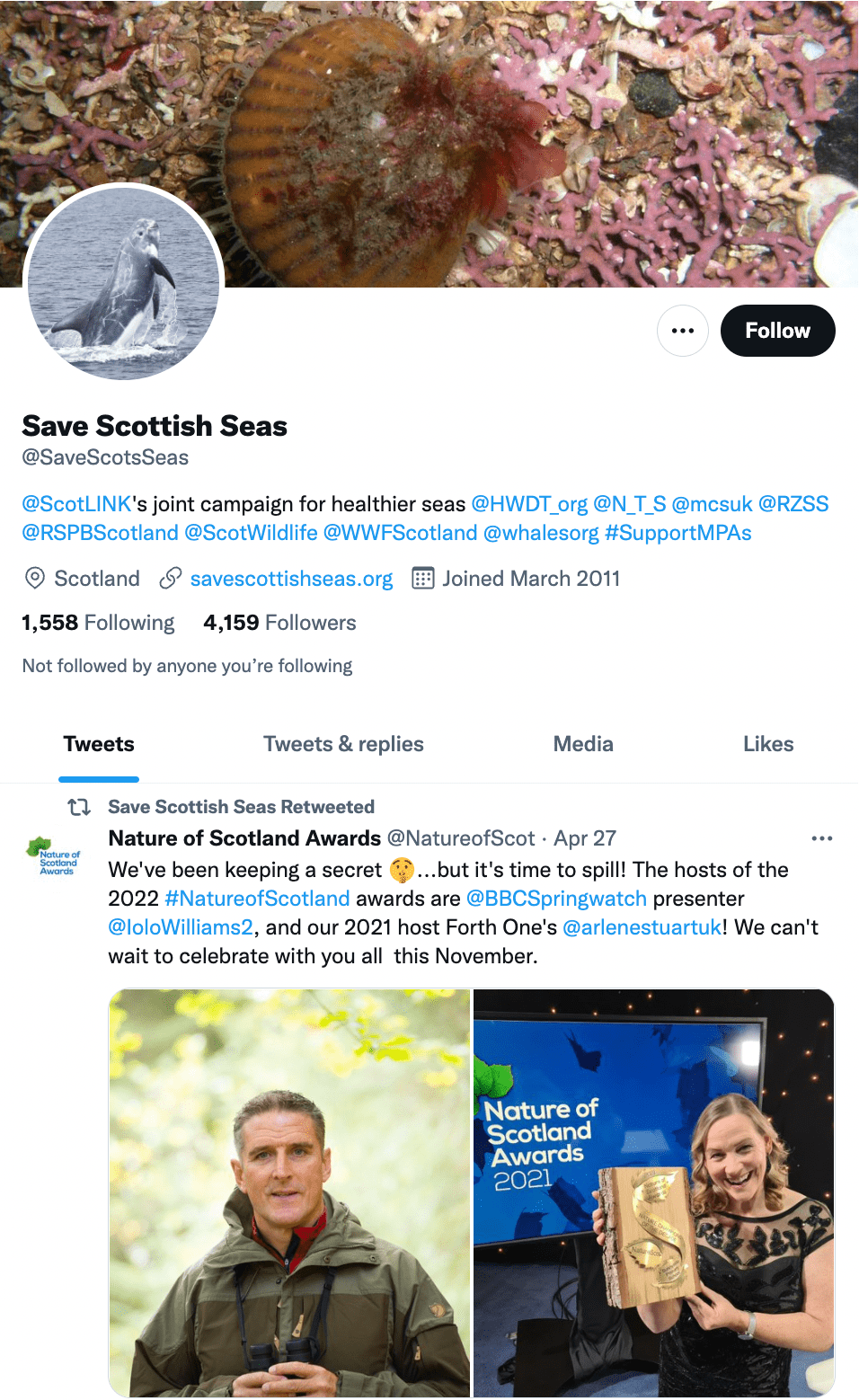 Follow Save Scottish Seas on Twitter @SaveScotsSeas and we can join you in conversation about how to recover Scotland's marine environment. 2017 is an important year for the Scottish seas. The Scottish Government are currently consulting on the future design and management of Scotland's marine protected area network and it is everyone's chance to have a say – keep up-to-date with the MPA process on Twitter.
Contribute a blog
The Save Scottish Seas blog welcomes contributions from individuals and organisations who support MPAs and share an interest in the future of Scotland's seas. It is a forum to share ideas and news. If you would like to contribute an article, please get in touch.