14 Dec 2012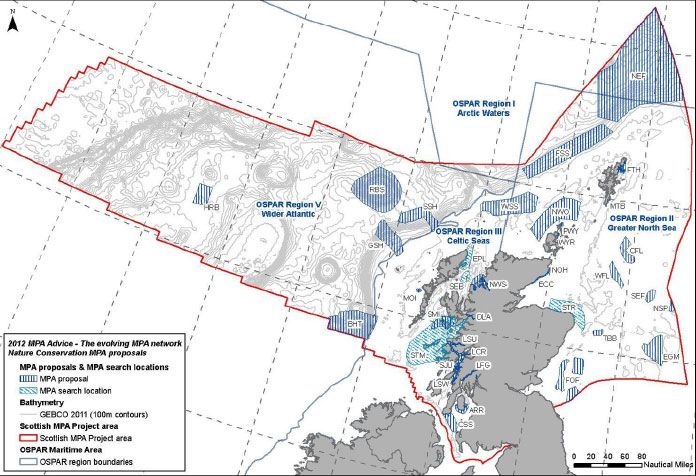 Plans announced today (14th December 2012) for 33 nature conservation Marine Protected Areas (MPAs) have been welcomed by a coalition of Scotland's environmental groups as an important step towards the much-needed recovery of Scotland's seas.
Scottish Environment LINK's marine taskforce contends that a network of Marine Protected Areas cannot afford to simply protect what's left in Scotland's seas, otherwise the marine environment will continue to decline. The eight organisations who collectively represent 460,000 memberships, believe that a network of MPAs must actively help recover the seabed and the marine life it supports, implementing the ambition of national legislation passed by the Scottish Parliament over two years ago. A recent Government assessment found that a significant proportion of Scotland's marine habitats and wildlife are in a declining condition.
Today's announcement by the Scottish Government – which outlines those sites recommended by government scientists to be incorporated into a national MPA network – has been welcomed by the taskforce as a major and urgent step forward in that mission. The taskforce will now study the advice for the network and its contribution to recovery of Scotland's seas.
Members of the group, which calls for better, sustainable management of Scotland's marine species and habitats, remain wary that some sites will 'fall out' of the MPA process and that others are not big enough, both of which will weaken the network's ability to reverse decades of decline in Scotland's seas.
Some species, such as whales, dolphins and seabirds have been largely excluded from the process so far, despite the presentation of strong scientific evidence. Other sites, regarded as the best areas for protecting Scotland's marine biodiversity, are also in the balance. For example, the Firth of Forth Banks is famously home to some of Scotland's richest sandeel grounds, yet current plans indicate the site may not be afforded adequate protection for the fish species. Questions also remain about whether MPA sites recommended for seabed habitats are ambitious enough to support their recovery.
In autumn the group launched the Save Scottish Seas campaign to help raise awareness of the declining state of Scotland's seas and what can be done to recover them. Members of the Marine Taskforce have also campaigned on these issues in recent months and tens of thousands of signatures, letters and postcards have already been sent to Scottish politicians. Whale and Dolphin Conservation delivered a 36,000 signature petition to Richard Lochhead on Thursday 13th December.